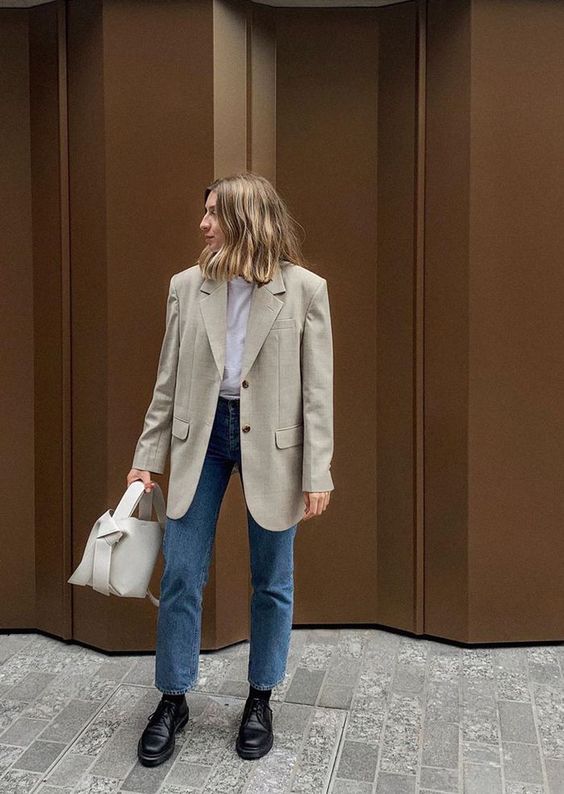 TOP 6 POPULAR STRAIGHT LEG JEANS
These jeans are famous for their great fit, and are the perfect pairs to update your 2022 wardrobe! Shop the crowd favorites below.
Your Guide on How to Wear Straight Leg Jeans
We've all heard it by now… Skinny jeans date you. And their replacement on the market is a familiar 90's silhouette: the Straight Leg! In previous posts, we've introduced the growing popularity of easygoing silhouettes such as the wide leg, Levi's signature wedgie straight, and Flare Jeans.
We're going to teach you the basics of how to wear and style straight leg jeans in 2022. This includes what tops to wear, cropped vs. uncropped, shoes to wear and how to style straight leg denim for the office!
Some quick notes about straight leg denim before we begin:
-This silhouette is neither too wide nor too skinny. Therefore, it's ALL about breaking up the proportion and adding shape to your silhouette to achieve balance.
-This denim is going to typically be non-stretch. If you're used to stretch-friendly skinny jean sizing, you might need to size up!
-Pay attention to the rise! High rise and mid rise are most popular, but low rise is becoming more available.
WHAT TOP TO WEAR WITH STRAIGHT LEG JEANS
The average compliment for skinny jeans was a billowing blouse, tunic and all sorts of bigger-on-top pieces that bring balance to the thinner leg silhouette. With straight leg jeans, the balance is nuanced. You run the risk of looking sloppy or wide by pairing volume with the roominess of a straight leg.

The key is breaking up your silhouette. Tucking a blouse, tee or sweater will help add definition to your outfit. Need a guide on how to tuck your shirt? Check out this shirt and sweater tuck tutorial here.
Body suits and tank tops are also a great way to break up the shape of your silhouette!

IMAGE FROM LEFT TO RIGHT: How to wear a body suit paired with jeans, a tank top tucked into jeans, a sweater tucked into jeans, and a blouse tucked into jeans.
CROPPED VS. REGULAR FIT STRAIGHT LEG JEANS
(And what shoes to wear with them)
HOW TO WEAR CROPPED STRAIGHT LEG DENIM
An excerpt from Straight A Style:
DO buy your cropped jeans where they hit a couple inches above your ankle. You want them in the area where your legs start to narrow from the calf or a little below.
DO NOT buy your cropped jeans were they are touching your ankle bone.
DO NOT buy your cropped jeans were they hit it the widest part of your calf. That is too high on your leg. You DO NOT want a capri.
If the shoe is right, cropped denim can actually lengthen your leg! Pair your cropped denim with heels, mules, slim ankle or sock boots that start where your cropped jean ends (to avoid an unintentional strip of skin showing). For the lengthening effect to be successful, avoid chunkiness around the ANKLE (chunkiness in the sole of your shoe is fine) – This keeps your leg looking thin and long rather than wide and short.
We love this Crop Guide Called "The BEST Jeans, According To Your Calf Shape" by Refinery29.

IMAGE FROM LEFT TO RIGHT: How to wear cropped straight leg jeans with sneakers, sandals, ankle boots, heeled mules and flats.
HOW TO WEAR REGULAR STRAIGHT LEG DENIM
With this easygoing loose style of jeans, just about any combination of shoes work as long as the ankle remains slim. Be aware that bulkier soles are a harder wear with the extra fabric hiding the thinness of your ankle!!! Make your look especially sharp by wearing a shoe with a pointed or slim toe.

IMAGE FROM LEFT TO RIGHT: How to wear straight leg jeans with ankle boots, heels, sneakers, boots and mules.
HOW TO WEAR STRAIGHT LEG DENIM JEANS IN THE OFFICE
The Post-Pandemic office culture has created more opportunities to introduce casual pieces into our office wardrobe!
If you want to wear denim to the office, stick to non-ripped mid to dark blue, black or white (We have a guide on how to style white jeans here)! Save acid wash colors and ripped jeans for evenings out and weekends. Surround the denim by elevated pieces such as a tucked in blouse, double breasted blazer, heels and jewelry.
Want to modernize your wardrobe with a professional stylist?
Personal Stylist Meg Gallagher can help you build your 2022 style.
Check out her services here.