How to Buy the Right Raincoat for Your Wardrobe
When it rains, all too often it pours! Part of a complete wardrobe encompasses coverage for every situation, even the unexpected. With January bringing in rainstorms, ice, snow flurries across the country, and cyclones (Los Angeles is getting another dose this weekend!) – having the right gear ought to be on the forefront of your mind. Where does one even start when searching for the perfect raincoat, weather boots and weather accessories?
Like anything in your closet, your rainwear ought to serve as both it's intended purpose – in this case, a clever instrument of warmth and weather deflection – AND add to your outfit in a positive way. There are a couple things to consider when choosing the right raincoat for your closet, so keep reading for a step-by-step guide on how to build an ideal weather wardrobe.
Meg Gallagher is a coat wardrobe affecianato! Check out our other coat articles, like our Coat Wardrobe 101: How to Clean and Make Your Winter Coats Look Fabulous, and Meg Gallagher on The Girlfriend's Raincoats Under $100. If you've ever wanted a professionally curated wardrobe with every essential piece covered, wardrobe styling services by Meg Gallagher, Personal Stylist Los Angeles can be found here!
Consider Your Location
When choosing the right rain coat for your wardrobe, the first step to consider is the weather in your location.
What is the weather like where you live?
If you're in sunny Los Angeles, you may only need a lightweight rain coat for those sporadic showers that pop up every once in a while.
If you live in hot and rainy Miami (most rainfall happening in the summer!), you may want several lightweight rain jackets to interchange with your outfits.
If you live in New York City, you'll need a heavier coat that keeps off the rain and snow for winter, and also a lighter jacket to combat April showers in spring.
Living somewhere windy, like Chicago? Waterproof jackets are also windproof! Choosing a rain coat that keeps a protective barrier from both water and wind is a two-for-one win!
Consider Your Body Type
When selecting a rain coat for your body type, choose a cut that flatters and adds balance to your shape!
Check out our quick guide on what coat style flatters your body type below.

If you're an apple shape, draw attention away from your midsection to your legs instead with an a-line coat or cocoon coat.

If you're an inverted triangle, utilize flared and a-line coats to draw attention away from your broader shoulders, and help give the illusion of curves to your athletic body type!

If you're an hourglass, belted coats that highlight your small waist and show off your curves is ideal. Stick to coats that end below your hips – any coat that ends right at the hips will make you look wider.

If you're a pear shape, you'll want a coat that will define your waist and add volume to your upper torso or shoulders to create an hourglass effect. Double-breasted coats, belted coats, coats with fur or accent lapels and classic trench coats are all great for this body type!
Consider Your Wardrobe
The final step in selecting the perfect raincoat for your wardrobe is to consider what else exists in your closet, and what you think you'll be wearing under your coat. A thoughtful coat purchase that works seamlessly back to your wardrobe will keep your rain coat from looking like an afterthought!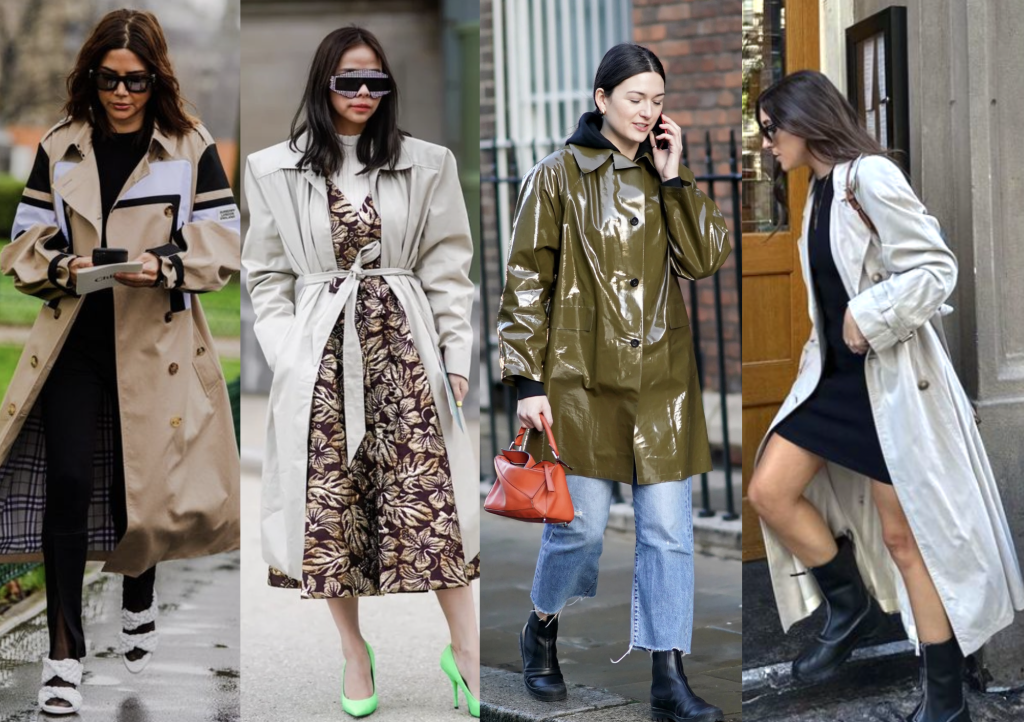 What do your weather shoes look like?
Does your coat match your footwear? (Keep reading to find out how to select the perfect weather shoes for rain and snow.)

Where will you be wearing this coat?
Is your rain coat primarily for urban exploration, days off and vacation? Or are you commuting into work, or wearing your coat during evenings out? Let the intended usage and expected outfit styles help to determine how elevated your coat should be.
Easy ways to work your coat into your wardrobe:
1. Match a neutral rain coat to neutral rain boots and accessories. Easy colors like Black, tan, gray, olive, burgundy or navy subtly work back to most outfits and will extend the wearability of your rain pieces.
2. Match a statement patterned or color coat to a statement color rain boot and accessories. If you're into a classic yellow rain coat, or want a cute patterned piece to define your weather wardrobe, make sure your rain boot works back to the pattern or statement color, and use these pieces as the focus of your outfit by wearing subdued colors under it.
Selecting the Right Weather Shoes
If you've ever made the mistake of wearing your leather boots in the rain or snow, you'll likely have found out the hard way that some shoes just weren't meant for braving the elements.
Whether it was the salt stains from a salted road, or damaged and cracked leather from the rain's moisture – don't risk ruining your shoes twice! Keep at least one pair of water resistant shoes in your closet for days where you need to brave the drizzle.
Water Repellent Shoes vs. Waterproof Shoes
Water-repellent Shoes
Sealed seams are used to keep water out, and these shoes are generally constructed with a thin layer of material inside the shoe as well to keep the feet dry. This generally works for light rainfall, but won't block puddles or heavier downpours.

Waterproof Shoes
These shoes are made to keep ALL the water out. Sometimes, this is at the expense of the shoe feeling more bulky or less breathable. Lots of great technology like Gore-Tex shoes offer lighter and more breathable options for athletics and to get you through wet commutes!

The Best Qualities in a Snow Boot
Get a boot that has good traction. A quality lug sole provides the necessary traction to keep you from slipping on ice. The deeper the lugs, the less you slip!
Make sure your boot is made from waterproof materials, to protect your feet from wet snow!
Make sure your boot has proper insulation. Manufacturers often offer temperature ratings, so be on the lookout to compare what it offers to your needs. (If the boot doesn't have a temperature rating – it may not keep you very warm!)
Shop Rain Coats, Weather Boots and Accessories
Check out our favorite stylish rain coats, weather boots and accessories for easy additions into your wet weather wardrobe!