Date Night Outfit Ideas for Every Occasion In 2023
Valentines Day is just around the corner! Since the holiday lands on a Tuesday this year, some may find themselves planning elaborate dates for the weekend before, trying to squeeze in a casual date throughout the week, or rushing straight from the office to dinner!
Whether it's mastering how to dress for a casual night in, you need an outfit that can be worn straight from work to dinner, or you're wanting 2023's trending evening silhouettes for those really special nights out; We've got you covered with stylist-approved easy to copy outfit ideas for every scenario!
Read on for key pieces to buy and how to create our favorite Valentines Day 2023 date night looks.

If you're looking for more 2023 date night looks, Meg Gallagher can create your very own closet full of fabulous date night looks, on trend winter outfits and transitional pieces to take you straight into spring! Wardrobe styling services by Meg Gallagher, Personal Stylist Los Angeles can be found here!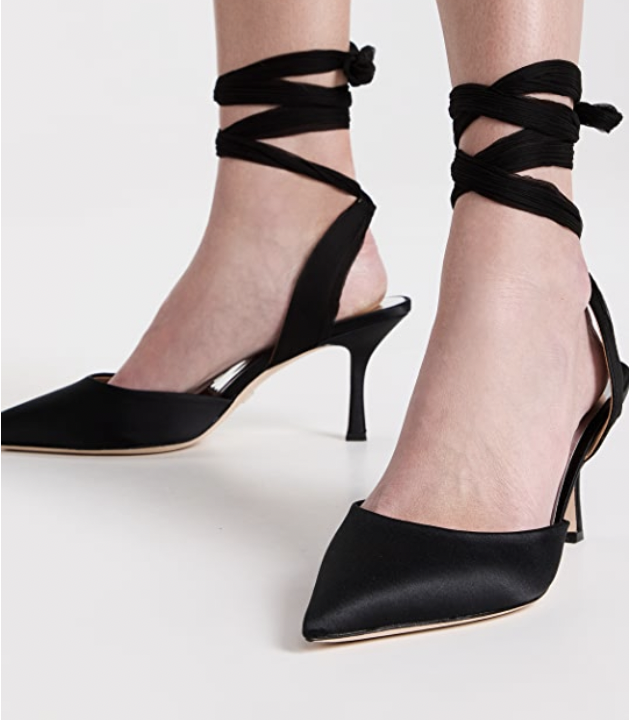 Knit Dress and Casual Crop Jacket: A Cozy At-Home Date for Dinner and Netflix Romcoms
An intimate evening at home doesn't always warrant a pair of heels, but still deserves the special attention a date entails! Ditch the sweatpants and athleisure looks for something different this Valentines Day – Why put in all that effort to look effortless, when you can look FABULOUS with no effort at all?
We have no doubt that knit dresses fit the bill, for a few key reasons:
A knit dress is cozy. Who wants to sit on the couch for the length of an entire movie in a full date night outfit, after eating dinner AND gorging out on sweets and chocolates?! A knit dress gives the same stretch and ease of sweatpants without looking like, well… sweatpants.
Knit dresses read as effort, even when they don't require any! Throwing on a knit dress is easy. You don't have to worry about pairing it with pants, and the casual knit material works back to both casual and elevated fabrics when throwing a crop sweater, cardigan or jacket on top.
Knit dresses are versatile. If at any point during the evening, you and your date DO decide to venture outside of your home, all you have to do is throw on some heels and jewelry to turn this at-home look into an out-on-the-town look.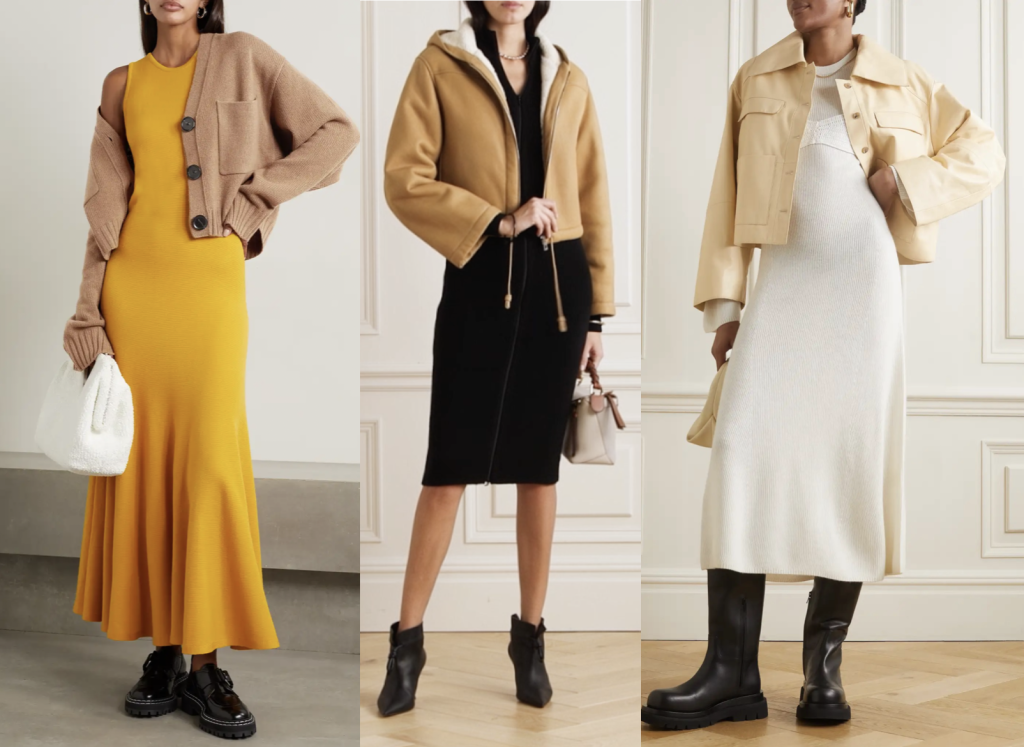 Shop Knit Dress Outfits Here:
Casual Day Dates in Denim
If your Valentines date is a casual one, denim isn't off limits! There are lots of ways to make a jeans or denim skirt look more special. Wear a chic top with ruching or unique sleeves (puff sleeves, off the shoulder, corset style, etc) OR a sweater, jacket or blazer in thematic red or pink! This is a great outfit idea for a coffee meetup, park date, lunch look or an outfit you could wear straight from a casual workplace to your date.

*Your shoes should depend on the activity. If your casual date involves an ultracasual picnic and strolling through the park, pair your look with a cute pair of sneakers! Heels and trend-forward shoes like lug sole loafers are perfect for shopping dates, coffee and afternoon dates!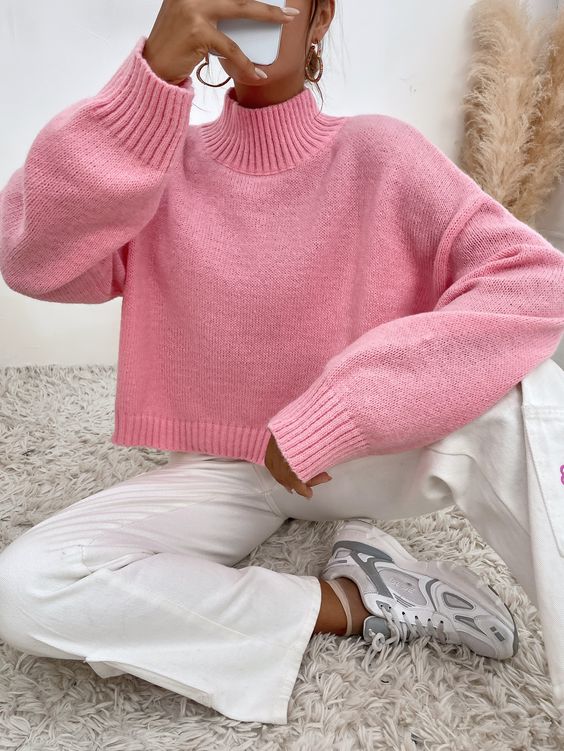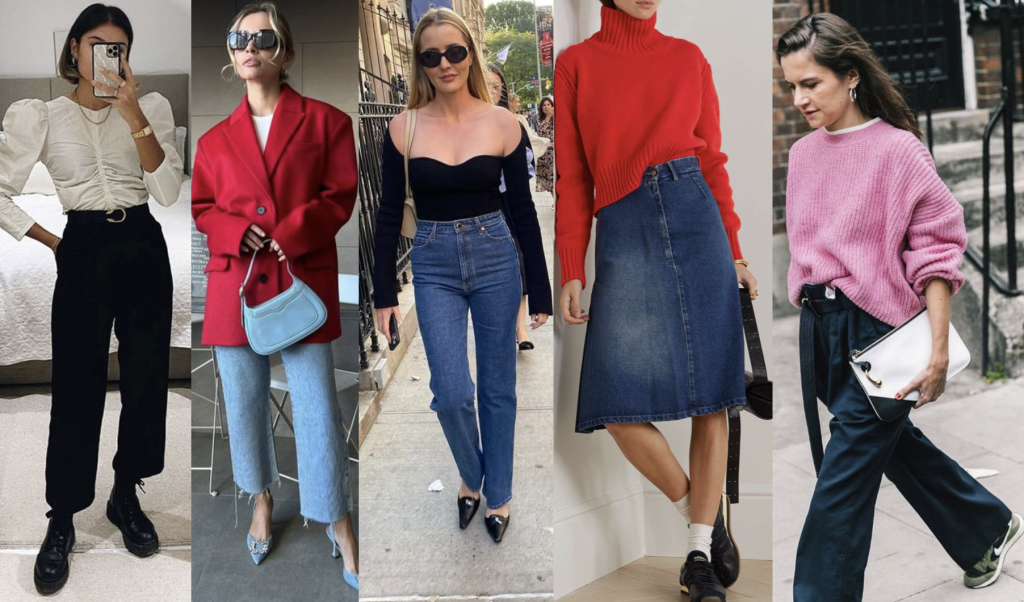 Shop Day Date Tops Here:
Heart Shaped Gold Puff Jewelry
A subtle yet thematic approach to Valentines day comes in the form of a new jewelry trend! We love these bubbly puffed out jewelry pieces reminiscent of 1980's clip-ons. Heart shaped puff jewelry is versatile: It gives a fun, fresh accent to casual wear AND would work well with a little black dress on date night.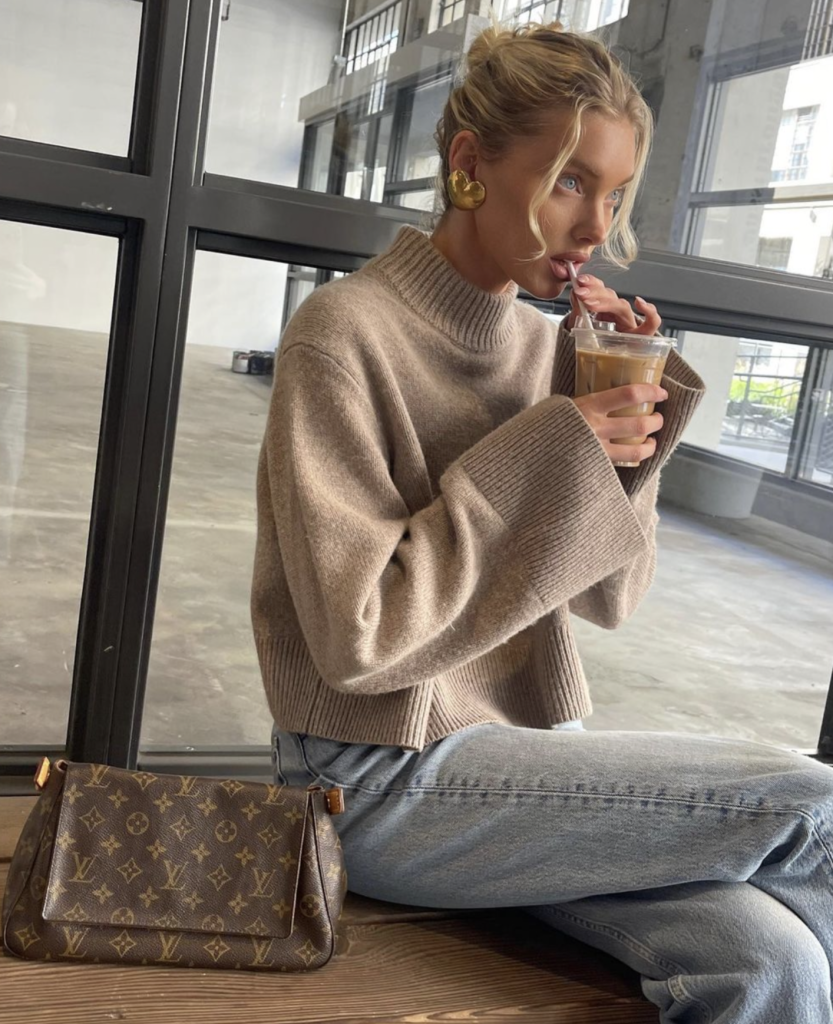 Shop Puff Heart Jewelry Here:
Elevating Your Outfit With Leather Accents
Sometimes, you need an outfit that's a "middle of the road" kind of nice. Maybe you need a look that moves you through an afternoon to evening date. Perhaps your outfit needs to look chic enough to wear to dinner, but hold itself up as you walk through the city to get there! Or maybe you just don't know what to expect!
The shine of a leather (or vegan leather) piece does just the thing, acting as a transformative piece for your ensemble.

Leather Bottoms (Pants, Skirts):
Leather mini skirts, midi skirts and leather trousers are in instant harmony with sweaters and blouses. Let the contrast of textures be a statement of sophistication for evenings out on the town, at the bar, restaurant or theater.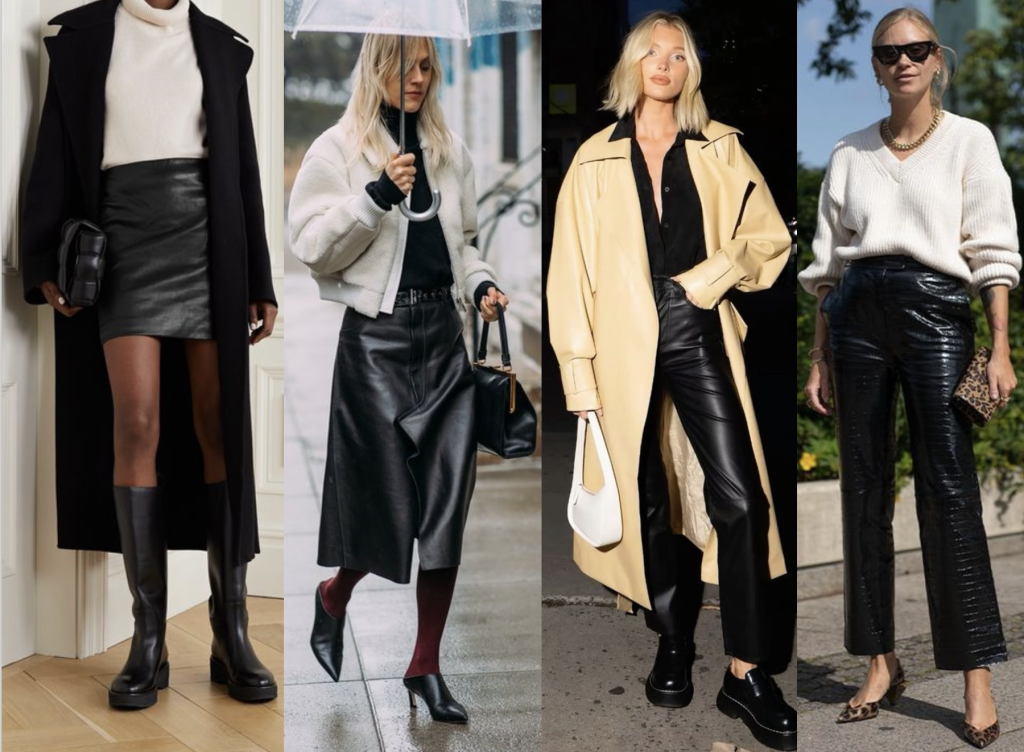 Leather Jackets, a trending outer layer in 2023:
Leather jackets, bombers, blazers and crop button-up jackets are trending fashion layers great for throwing over otherwise basic pieces like trousers, mini and midi skirts for day to night dates and cheeky activities like concerts, group dates, "galentines" parties and karaoke.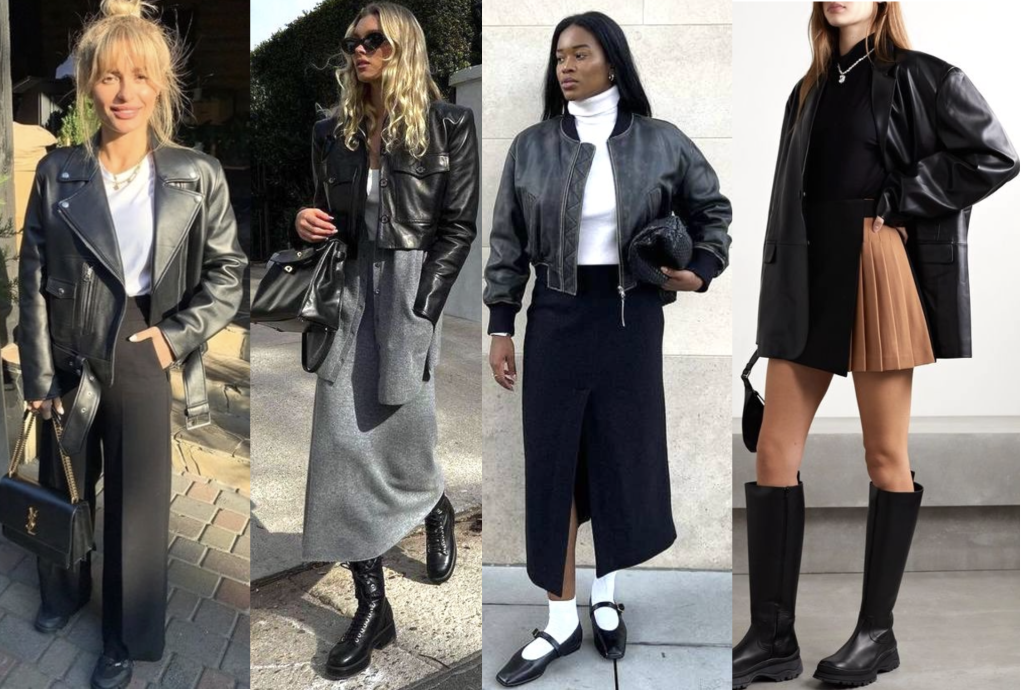 The Leather Trench Coat:
Throw a leather trench over your outfit for an instant evening look! Try pairing it with a mini or midi side slit dress for a look that's both sexy and sharp. Try pairing your trench with denim or leather pants and a camisole or mock neck for a look that's both functional and sleek.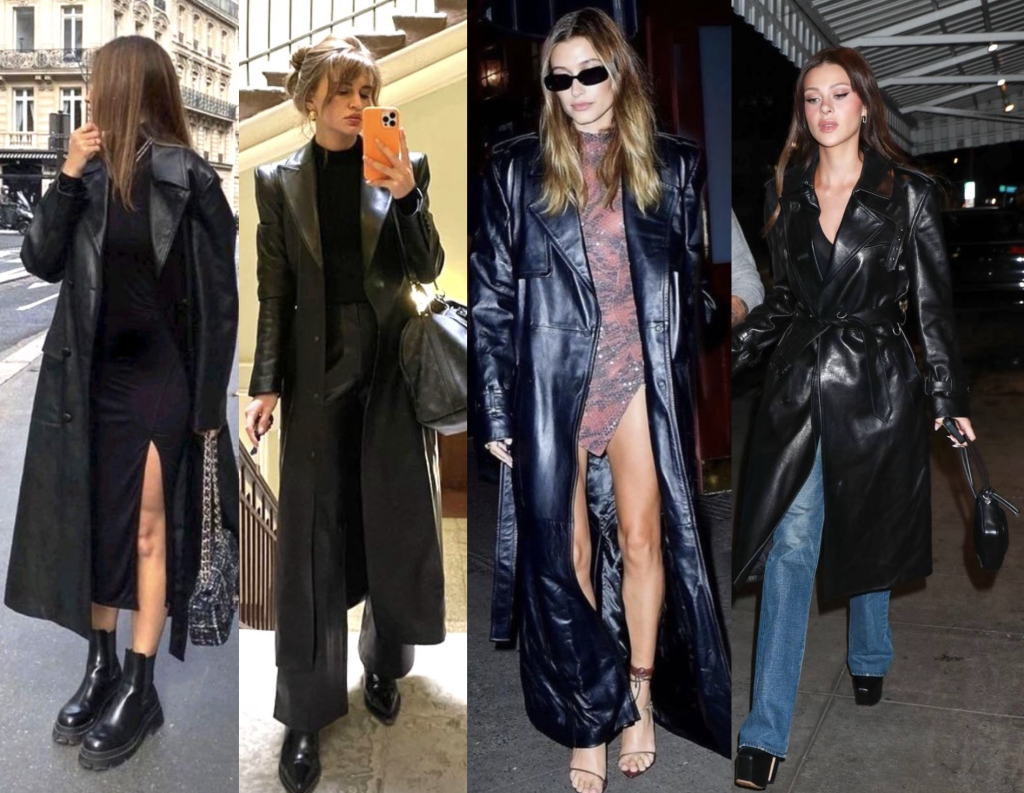 Shop Leather Pieces Here:
Desk to Dinner Office Outfit Idea
Valentines Day is on a Tuesday this year – So if you're heading to a date straight from your office, we recommend a workwear trend inspired by the runway: The Tied or Pinch Waist Blazer. A flattering blazer with a tailored cinch at the waist or fabulous fabric tie waist is the trademark work outfit blazer silhouette for 2023. We love this look for it's ability to highlight the smallest part of the waist, creating a fresh emphasis on curve as opposed to the boxy, oversized blazers popular in 2022. This piece looks great with trousers, skirts and dresses underneath.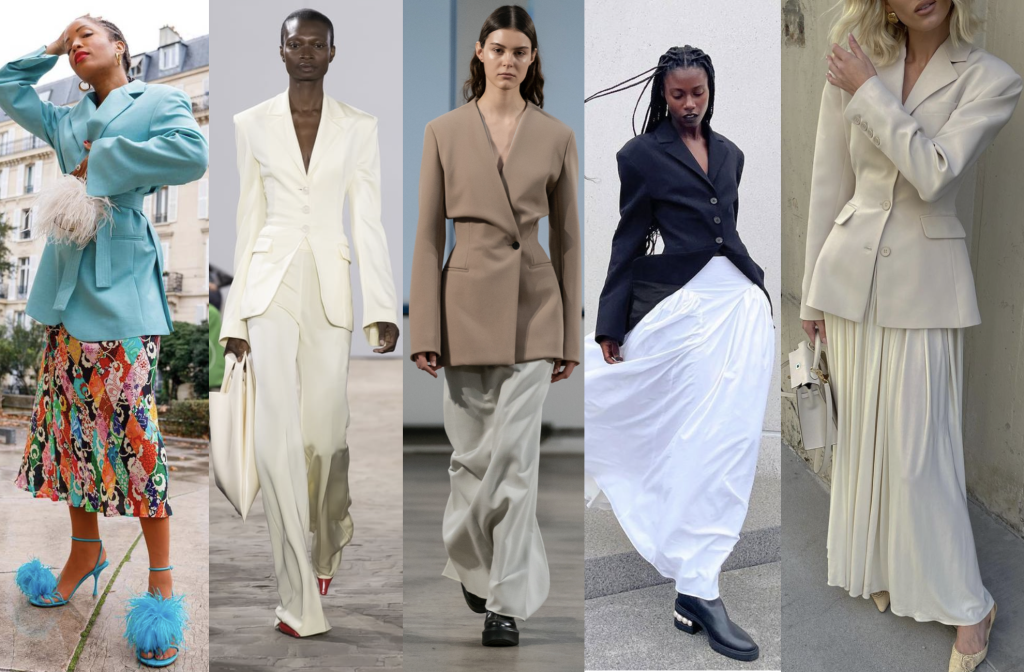 Shop Cinched Blazers Here:
Trending Cocktail Dress and Evening Wear Silhouettes for 2023
Look no further than this year's Grammys celebration for an overview of trending silhouettes for evening wear and cocktail dresses! Flattering ruching, side slits, corsetry, sparkle and luxurious silky fabrics inspire 2023's cocktail outfits, event pieces and party wear.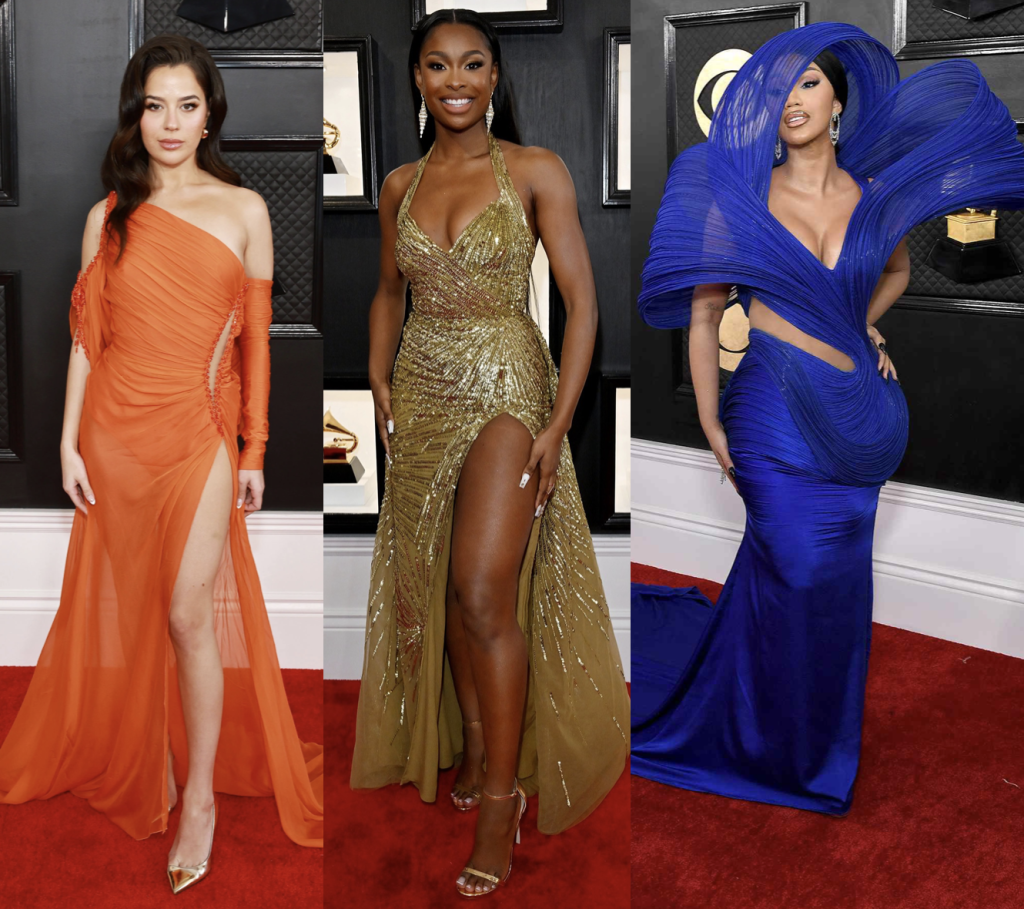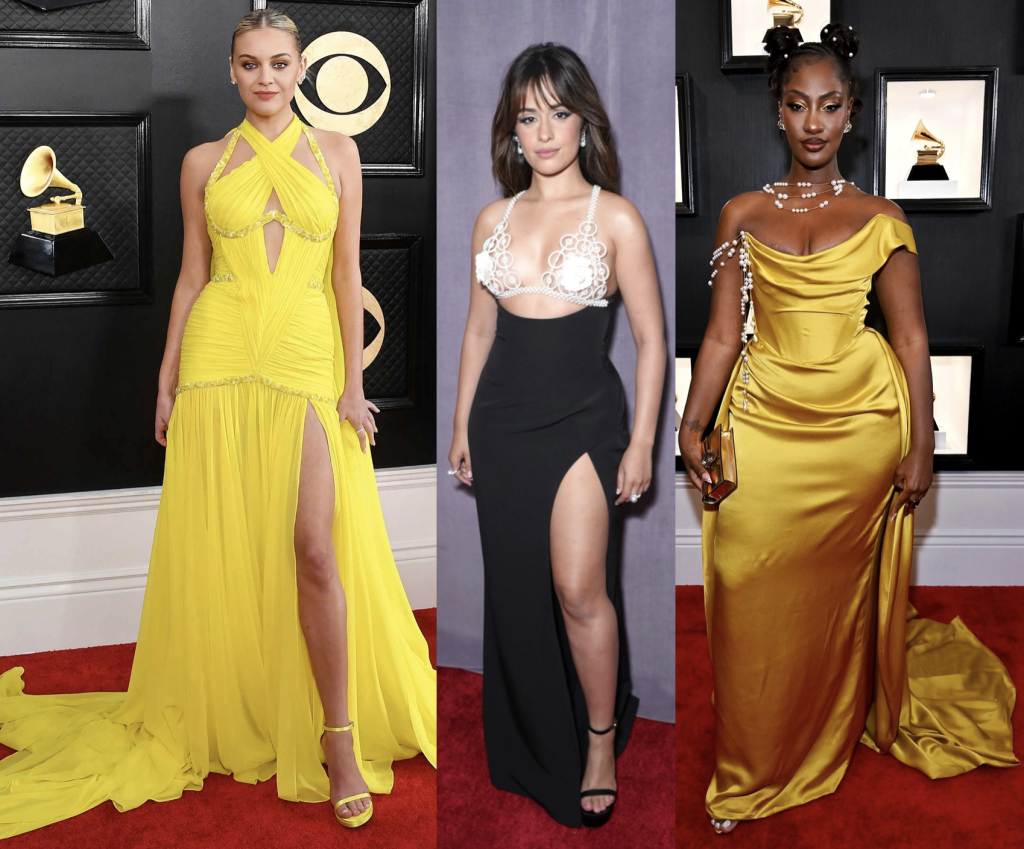 Shop Trending Silhouettes for Cocktail and Going Out Pieces Here: