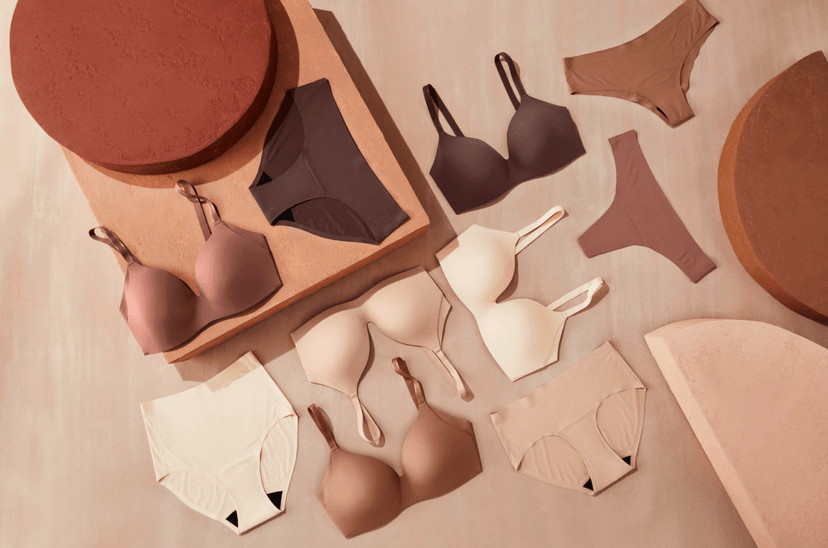 When we're building our wardrobes to be the best they can be, we often forget about the most basic pieces of all – our underwear. Even though underwear is the literal foundation of every outfit a woman wears, these are the most common pieces to be worn far past their need of replacement.
Check out our guide on building your underwear wardobe, as well as our list of up-and-coming bra and lingerie companies that we love!
Check Your Fit
Ill-fitting bras and stretched out underwear can look unflattering under clothes, leaving a poor foundation for shirts to rest on or loose panty lines that make ridges through your jeans – Yikes! It's important to eliminate uncomfortable pieces and replace them with high-quality bras and underwear that will last day-to-day wear.

While underwear may mostly come down to situation or personal preference, we love this general underwear guide based on body type titled: I Bet You're Not Wearing the Right Knickers for Your Shape.

As for bras? That one's a little less subjective.
Start with identifying your boob-shape, and proceed to look for bras that are said to flatter, support or fill that shape. We love this visual guide by Healthline: What Are the Most Common Breast Shapes?
Check The Wear & Tear
Is the wire poking out of your bra? Straps loose or broken? Is the cup gaping or too tight from weight fluctuation? Is the lace too itchy to wear, or the colors too bright to put on under your clothes? If your bra matches any of these categories, it's time to throw it out and invest in some better pieces.
For underwear, it's the same deal. Get rid of pieces that are loose, torn, chunky, itchy or ill-fitting and invest in the right sizes and quality!
Brands We Love
CUUP
An instagram favorite! Performance-strength luxury fabrics with a clean silhouette, perfect for the everyday in sizes A through H.
Best-Sellers:
Knix
All their products, from the most comfortable wireless bras to super absorbent period-underwear, are designed to make you feel more comfortable in your own skin!
We love their attention to every conceivable phase in a woman's life – including teen & adult period underwear, postpartum, activewear and shapewear – providing beautiful everyday pieces for every woman.
Best-Sellers:
Pepper
A brand that celebrates smaller breasts and specializes in flattering bras for AA-B cups! Say goodbye to cup gaps.
Best-Sellers:
ThirdLove
With 80+ sizes and a mission to bridge "sexy" with "comfortable", they use millions of real women's measurements—not size templates—to create their products. Use their Fit Finder to get your perfect bra!
Best Sellers:
Negative Underwear
Their motto?
"Simple and still sexy. Everyday wearability without sacrificing style. You should love your first layer."
Best Sellers:
Eberjey
Beautiful lingerie that sacrifices none of it's sensuality in everyday pieces. You'll find beautiful lace pieces with none of the itch!
Best Sellers:
Dora Larsen
Tired of wearing uncomfortable and uninspiring bras, Dora Larsen combines aspirational and innovative colour combinations with contemporary lingerie shapes and unique bodysuits.
"Colour can be soothing, amusing, rebellious or uplifting. The magic lies in how the colours are combined." – Georgia Larsen
Best Sellers:
Hara the Label
Hara the Label offers soft geometric intimates and bodysuits in uniquely minimalist solid colors! Offers sizes from XS to 5XL!
Best Sellers:
Maiki
Inspired by femininity and simplicity, Aussie-brand Maiki crafts fine lingerie, intimates and loungewear for women, designing with a female's sensuality in mind, as well as classic silhouettes and luxe minimalism.
Best Sellers: