Happy International Women's Day!
Happy International Women's Day! In support of women everywhere, we're celebrating your style with a 101 Guide on 2023 Spring Style.
In a complete wardrobe, what can you interject to feel on the pulse of the new season? To answer this question, we've canvased 2023's hottest trends from the February fashion shows to give you the 12 most relevant, easy to follow movements on cut, color, silhouettes and patterns for Spring. Take these trends into your officewear, events, causal days out and date night outfits for a modern wardrobe in 2023.

Need help inserting trend into your wardrobe for Spring? Meg Gallagher can update your wardrobe with modern pieces that will carry you through the warmer seasons. Wardrobe styling services by Meg Gallagher, Personal Stylist Los Angeles can be found here.
Big Denim Getting Bigger
Denim trends have been loose for a while, however this season highlights a very particular silhouette. For 2023, to-the-floor flood jeans reign supreme over tapered barrel and balloon silhouettes. The key to wearing flood jeans is in your shoe; A great slingback heel will keep your shoe from hiding behind the heavy shape and length of the jean, defining the trend with a sharply forward feminine look.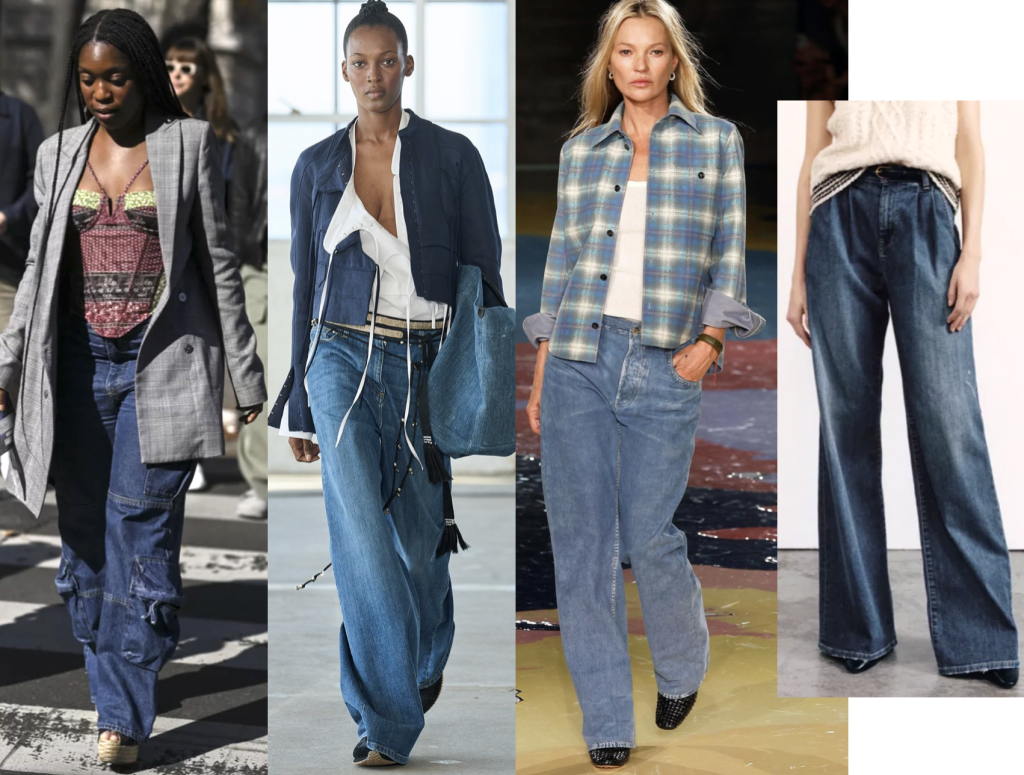 Oversized or Cinched? Your Pick!
Whether you prefer the ease of an oversized blazer, or the sharp silhouette of a cinched blazer – you can't go wrong! Oversized and cinched silhouettes are trending, each allowing a strong shoulder to define the movement.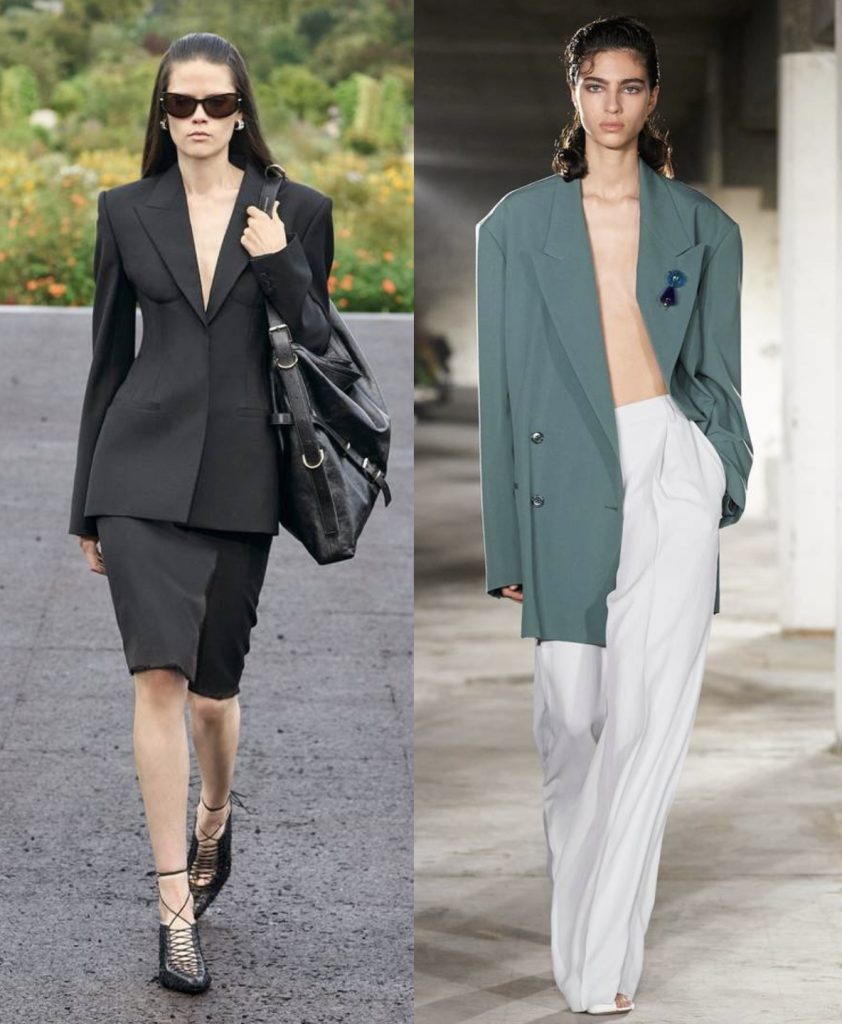 Bold Colored Bottoms
Bold colored bottoms are a fresh way to revamp your office wardrobe or date night outfit! Colored bottoms are a great method to wearing trend colors – Since the color is away from your face, you can get away with colors that may otherwise clash with your color palette.
Pro Tip: Opting for an oversized trouser or colored skirt makes this an easier wear if you carry weight in your hips and thighs.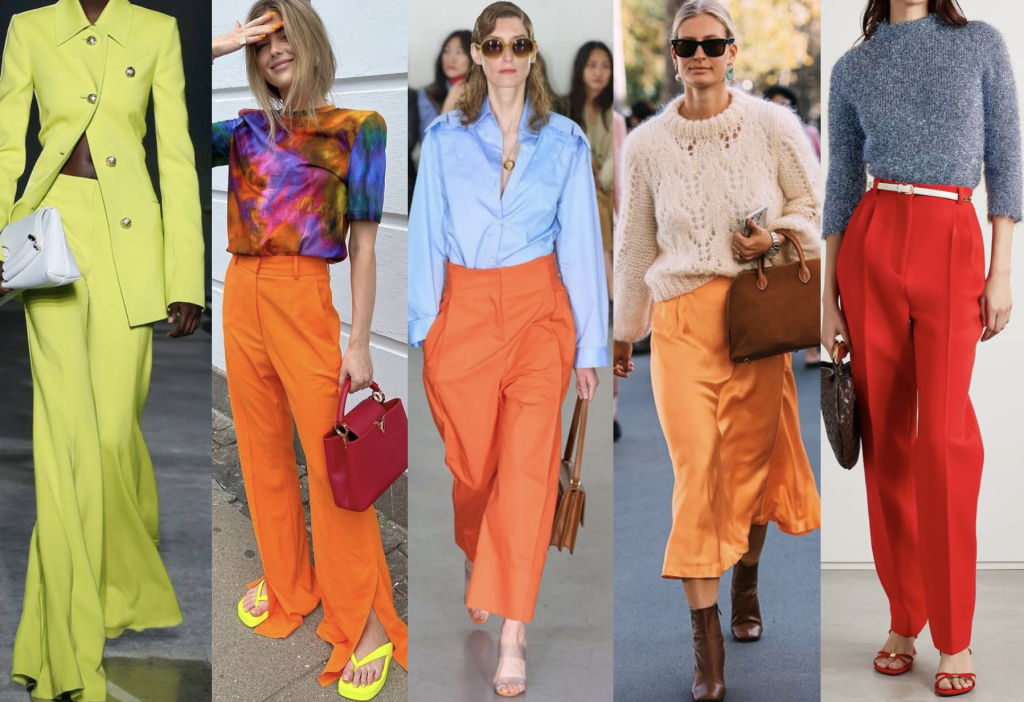 It's Giving Hibiscus! Trending Colors: Lime Green and Poppy Red
Lime Green, Acid Green, Key Lime Pie, Chartreuse Yellow – Whatever you want to call it, this bright yellow-green is reminiscent of tropical leaves, perfect for ushering in the warmer seasons ahead. In contrast is a bright Poppy Red, trending as both a statement and accent color for shoes, dresses, blazers and more.
If you're a Spring Season, you're in luck! These colors are directly within your most flattering color palette.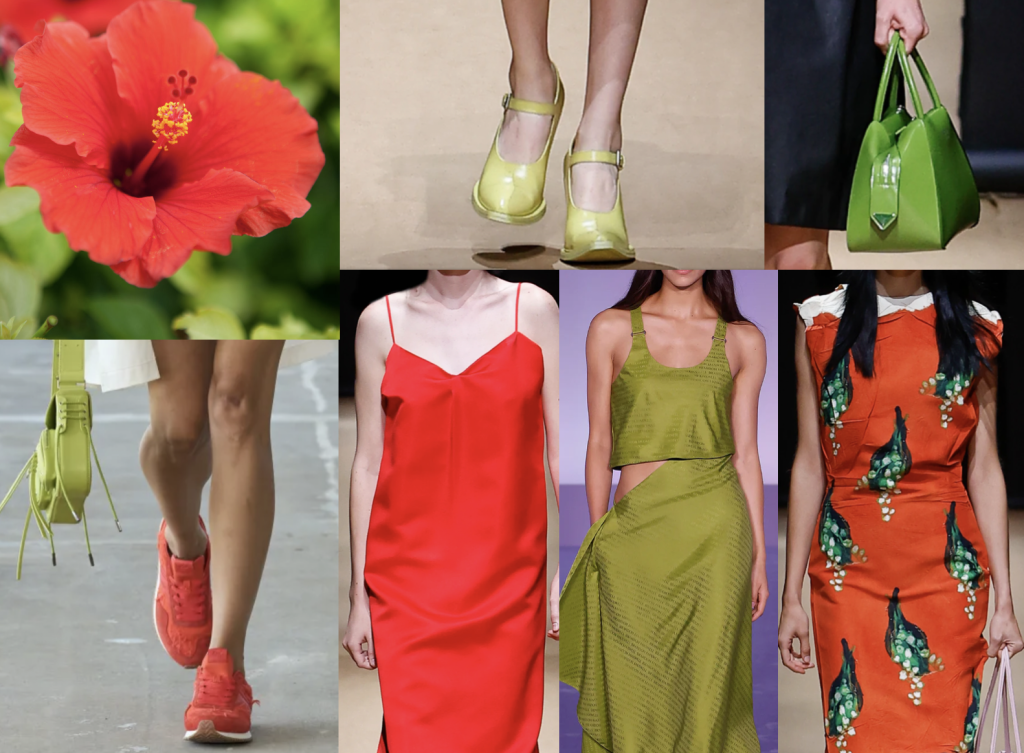 Stark White Shoes
Stark white shoes are trending! We love this shoe for a simultaneous statement and neutral basic piece. This versatile trend works seamlessly into a minimalist's wardrobe, or as a grounded element in a textured or patterned outfit.
Trending shoes in white to look out for: mary janes, ballet flats, slingbacks, boots and shoes with wedges.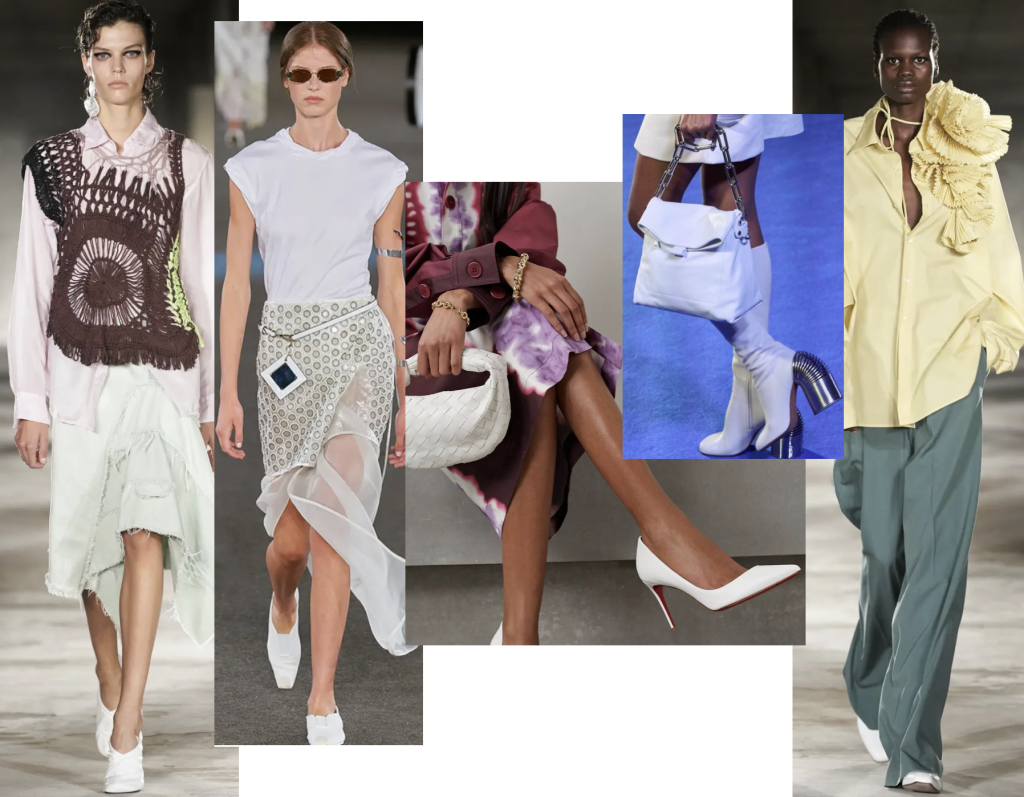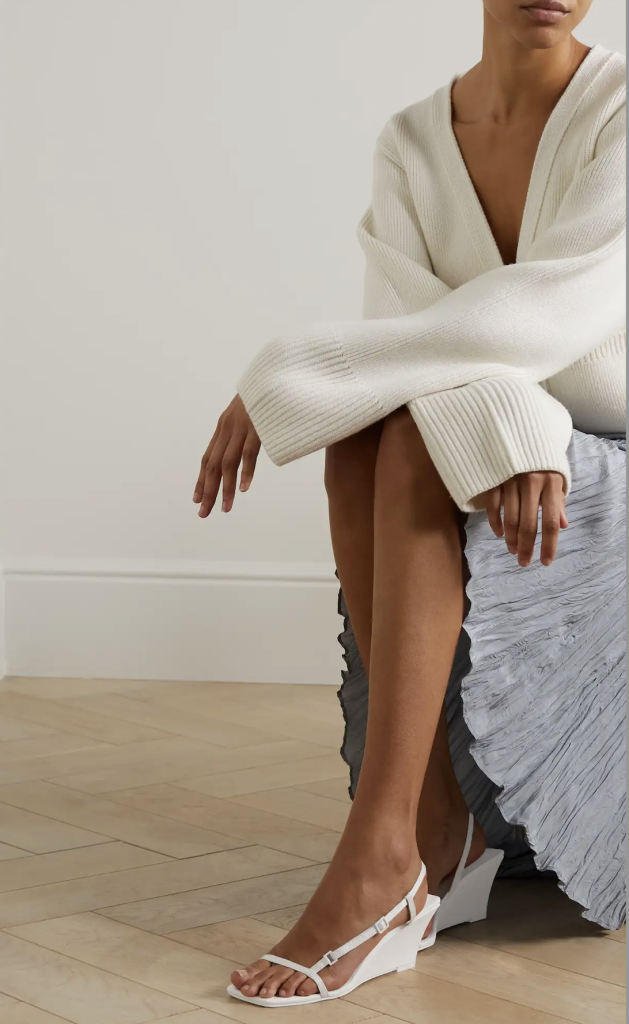 Delicate and Sexy: Sheer and Mesh
We're loving how sheer and mesh pieces bring texture and interest into an outfit. This trend may look like a hard wear that involves layering or complicated pieces, but there are so many ways to insert it into your wardrobe without a second thought!
A few ideas for you:
The Accessory Element: Wear sheer stockings or mesh socks with anything from slingbacks and loafers to platform sandals.
How to Wear it in the Office: Try a high neck patterned mesh piece under a buttoned blazer and high waisted trousers for an elevated yet delicate peek of contrast.
How to Wear it on A Date: Wear a sheer top over a camisole, or a sheer dress over a slip dress to add interesting texture and show a little skin!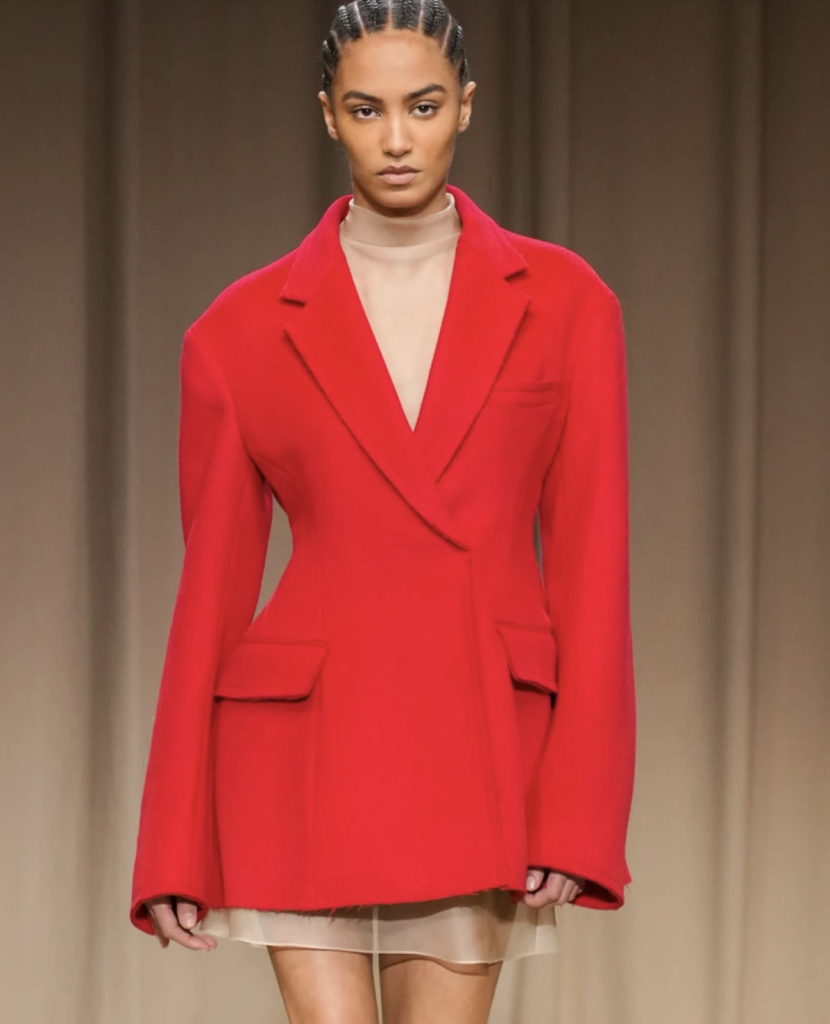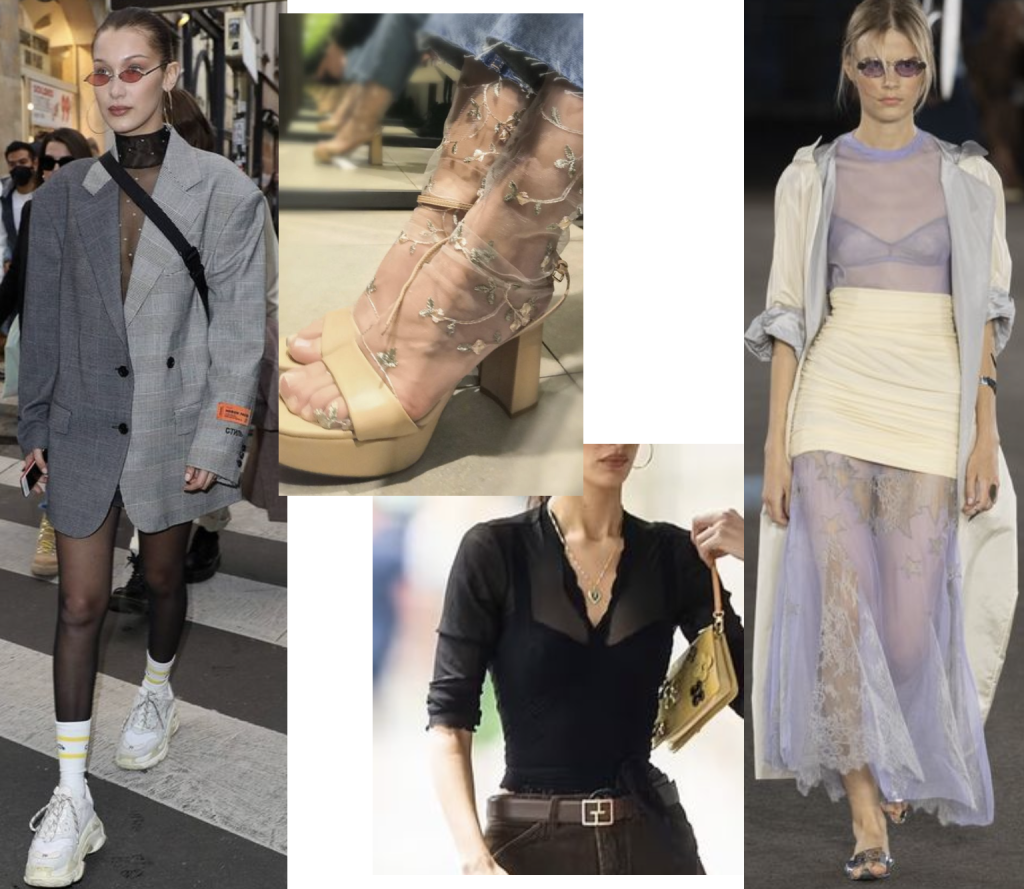 Motto Leather
Motto Leather is continuing to trend! Whether it's real or faux, it edges you up and makes you feel modern (yet won't really go out of style). There are tons of options on how to integrate leather into your wardrobe. A simple addition of a leather jacket or boot can be worn with close to anything, or a more advanced yet still versatile leather pant, dress or skirt can be effortlessly worn back to denim, basics and more.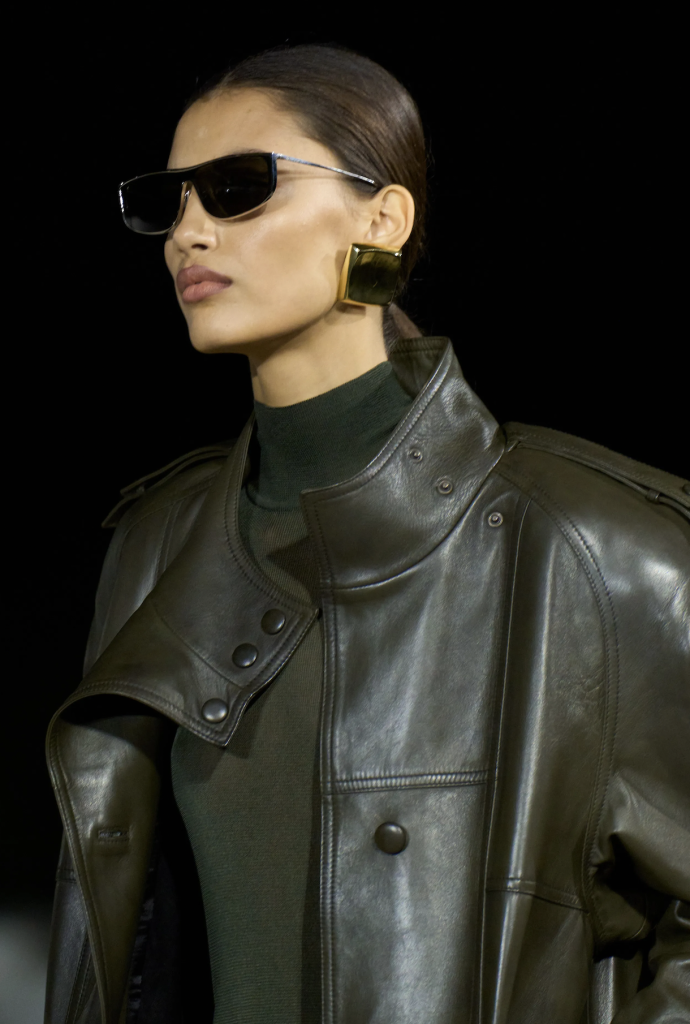 Raw Edges
This forward design element feels completely fresh for 2023! An otherwise "rough around the edges" trend (See what we did there?) is innovated by color usage. Elevated delicate neutrals keep the trend upscale enough to wear beyond ultra-casual settings, such as In creative office spaces and for evenings out.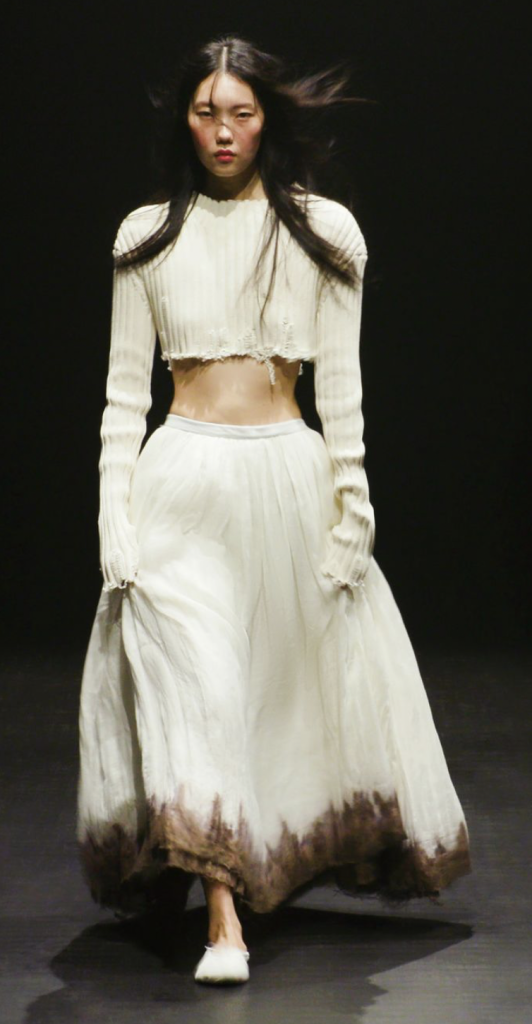 Big Bags
Office workers, take heed: jumbo totes are IN! Teeny tiny microbags take the backseat in this round of trending bags to favor a tote big enough for the likes of Mary Poppins. These supersize bags don't lose their chicness in size. Minimalist designs come across as sculptural on the shoulder, making a stunning addition to your outfit rather than distracting from your silhouette.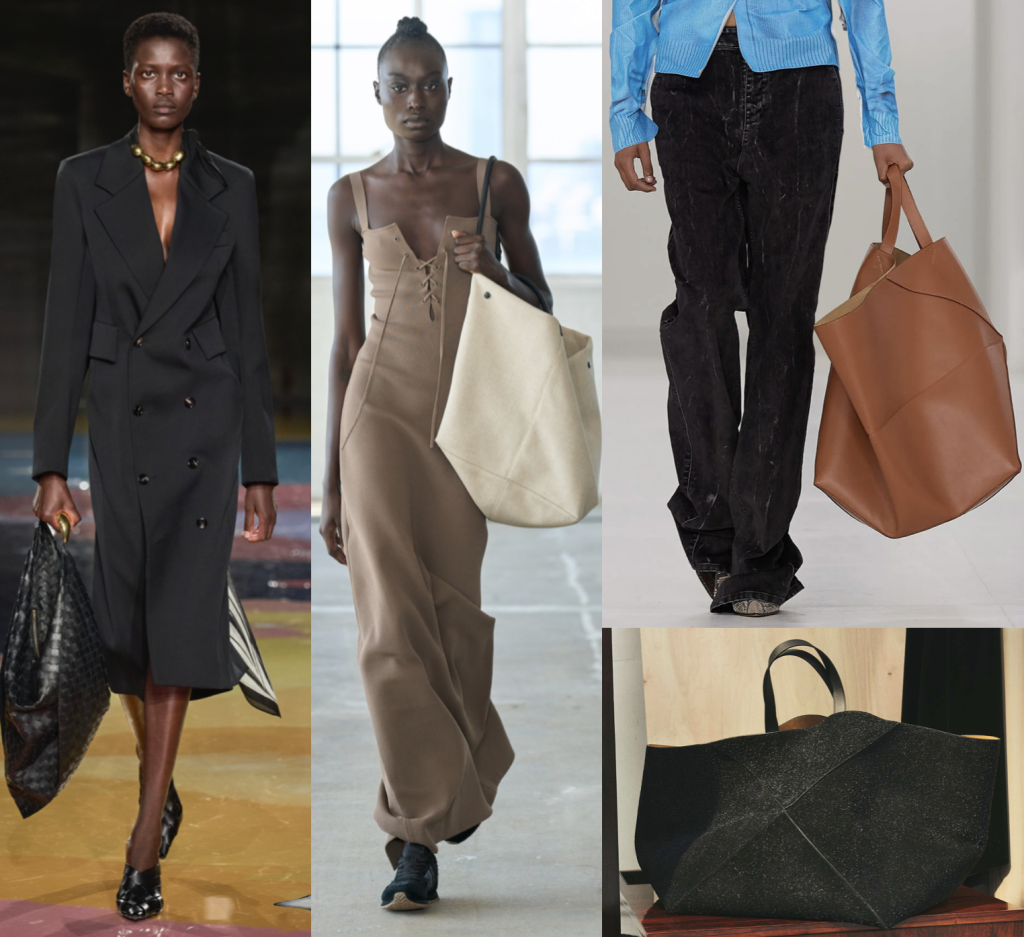 Walking Works of Art
2023 is moving away from florals in favor of blurred prints, subdued tie dye and abstracts.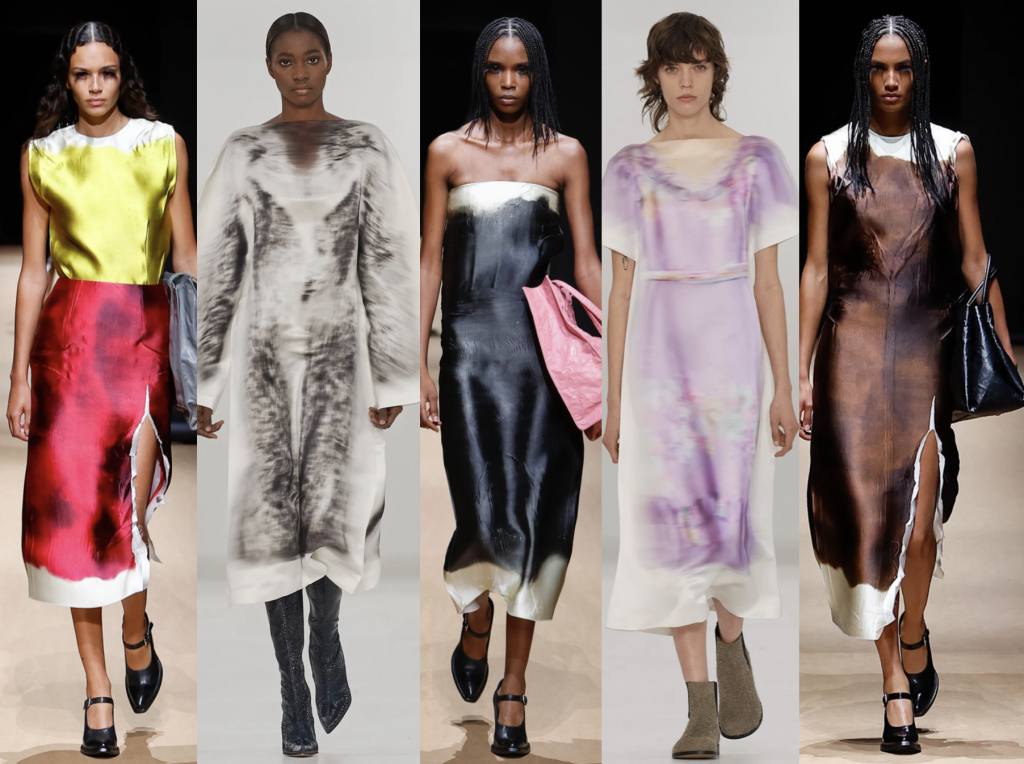 Jewelry Trend: Shoulder Skimmers
Shoulder skimming drop earrings are this year's statement jewelry! Big teardrop pearls, boho dangle hoops, gems and architectural metal pieces will add a wow factor to even your most basic outfits.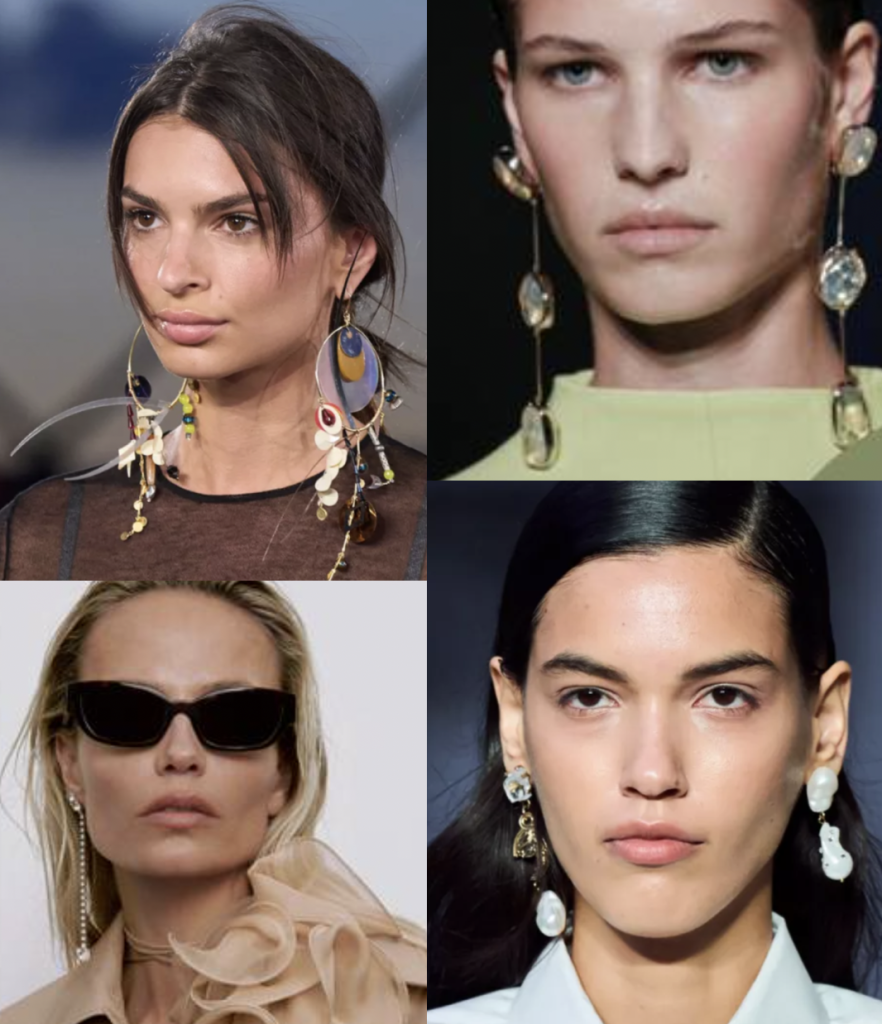 Metallics and High Shine
Liquid shine golds, crunchy tinsel silvers and light champagne pieces bring an unexpected but welcome shimmer into spring. Metallic statement pieces like dresses, tops, bottoms and jackets will carry you through the entire year without growing tired. Just like gold and silver jewelry, these pieces can be worn with just about any color or fabric – the possibilities are endless!
Our favorite understated statement: Take this trend to your shoe for parties, dates or extra fabulous ultra-creative daytime looks.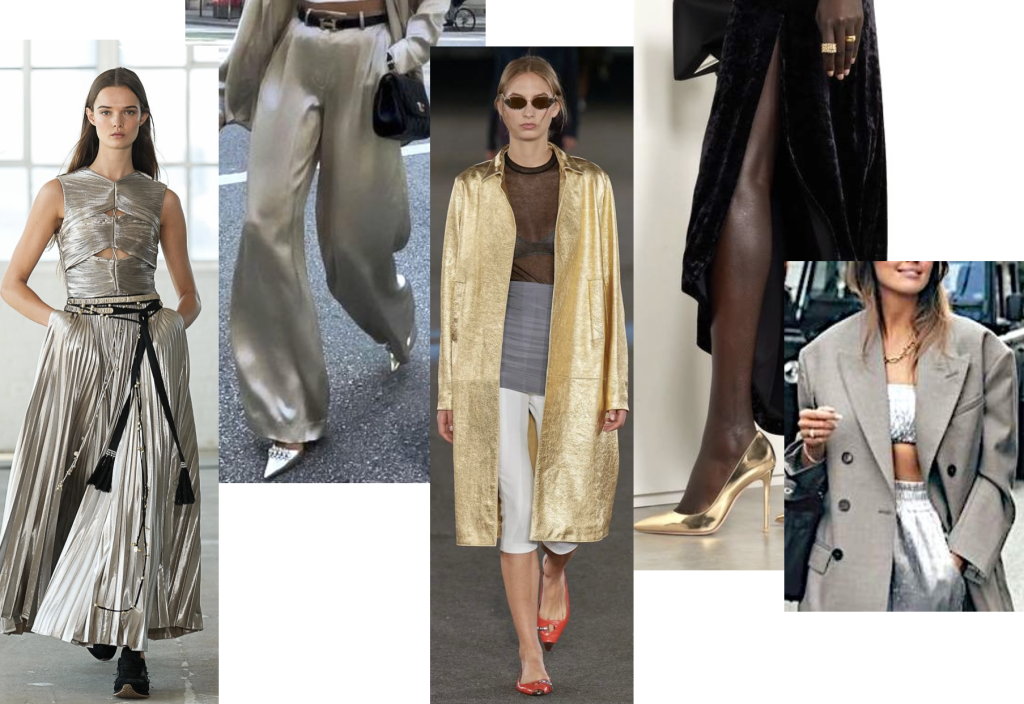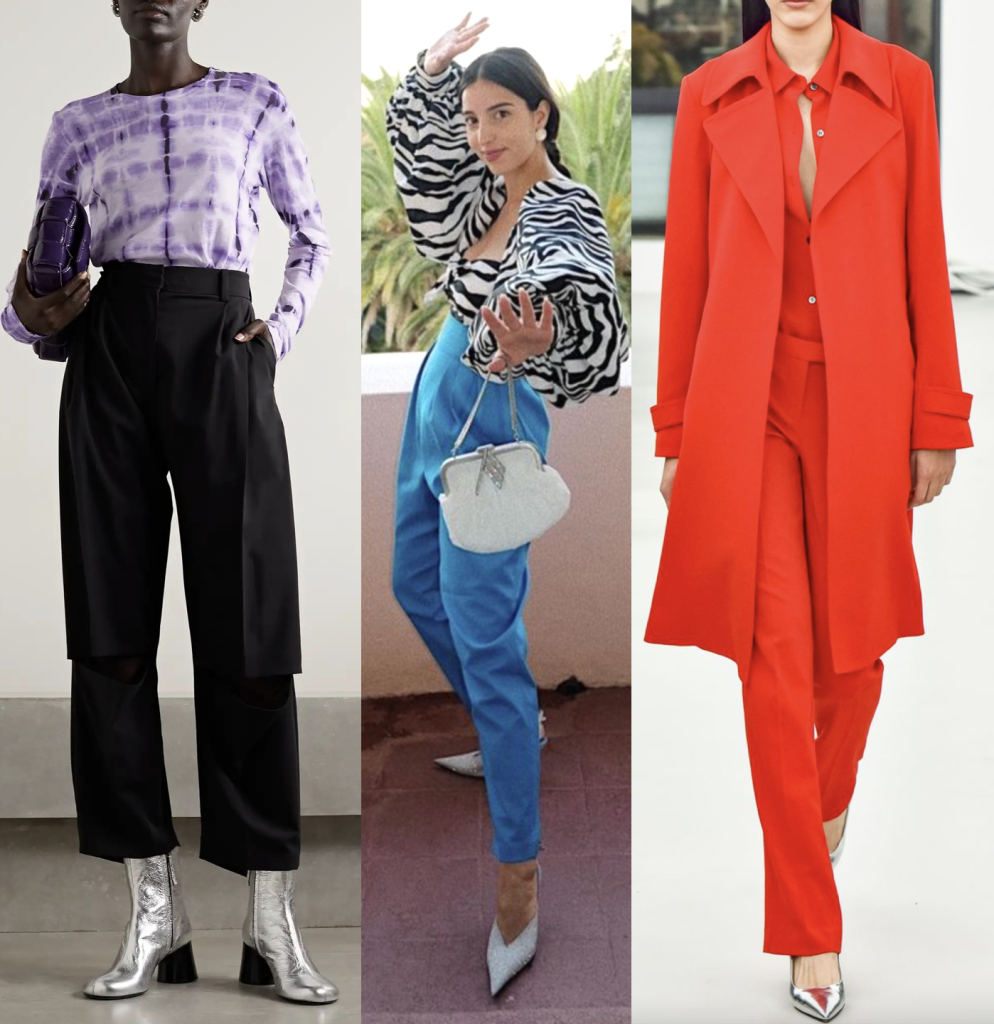 "The Office Silhouette", A Sneak Peek Into Fall…
Stay ahead of the curve with our sneak peek into fall's upcoming office silhouette!
Here's the formula:
Big Shoulders, Knee Length Skirts, Sheer Black Stockings & Slingbacks.
Key Pieces to Purchase for Spring 2023