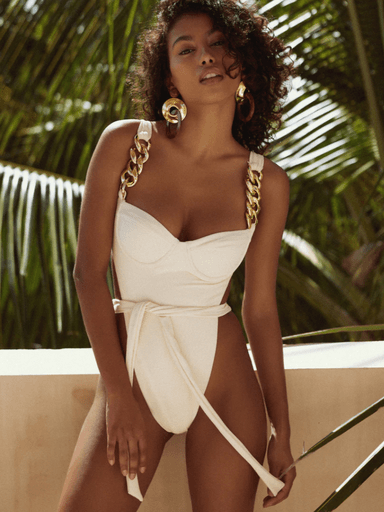 Why 2023 Swimwear Trends Are A Win for Women… Hint: Extremely Flattering
In anticipation of Labor Day Weekend, we're detailing all things SWIM! Personal Stylist Meg Gallagher loves buying summer swimwear, resort wear and beach pieces end-of-season to capitalize on steep discounts and favorable holiday sales. In sunny Los Angeles, purchasing end-of-season still gives plenty of opportunities to rock your new swimsuits well into October, while also building an affordable swimwear wardrobe that feels fresh into the following year. 
The best thing about this year's new swimwear trend is that while there are some wilder options(don't worry – we'll cover that too), there's a much larger focus on two things: Flattering your curves, and nodding to the classics. 
Check out our insight on swimsuit styles 2023 trends, and why they're a total win for women. 
Want to make the most of your end of season sale shopping? Check out Los Angeles Stylist Meg Gallagher's expert wardrobe styling services here.
The French Cut & Ultra High Rise
This ultra high-rise hip revealing silhouette creates a leg-lengthening silhouette that hides belly fat as a bonus. High-cut styles also tend to hug the body "in all the right places"; it's signature v-shape emphasizes curves with a cinching effect around the waist. Virtually any body type can pull off the look for it's smart accentuations and flattering shape tricks on the eye. 
Ruching, Crinkle-Stretch & Pucker Fabric
We're obsessed with these figure-flattering swimsuit styles that camouflage any "lumps and bumps". Truly made and intended to flatter women of all sizes, this trend is a must-have for 2023 and beyond.
Metallic & Glitter
Metallic and glitter are a fabulous way to make your swimwear stand out without "getting old". Like your favorite every-day jewelry – shine fabrics have a sense of wearability that feels more radiant and timeless than usual trend colors. 
Jewelry Details
Skip ruining your favorite chain necklace and wear a swimsuit that's got jewelry embedded into it's design! Chains, studs, gems and pearls are giving both the whimsy of mermaidcore and the unbeatable chicness of Vogue. 
Cutouts & Twists
Puckering twists and flirty cutouts can create interest and flattering movement throughout your suit! The key to making this more nuanced trend work in your favor is to choose pieces which diagonally break up the midsection to create slimming shapes rather than "revealing" ones, or opt for twists that pull the waist inwards. 
One Shoulder & Halter
These alternate yet classic cuts feel fresh right now but won't go out of style. 
One Shoulder swimsuits look great on those with narrow shoulders, toned arms or square body shapes. 
Halter Designs are great for those who want to accentuate curves, draw attention to your bust, or show off your arms and shoulders. 
Contrast Swimwear
Contrast colors create a unique duality on the swimsuit without feeling it will become immediately dated. Utilizing block colors and stripes, we love how tasteful contrast swimwear looks, securing it's wearability for years to come.