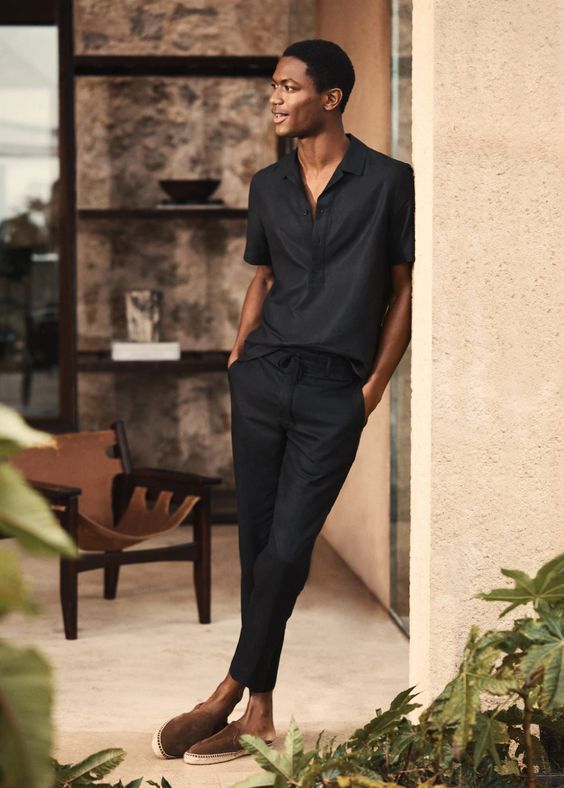 This summer to fall transitional outfit idea for men takes ALL the guesswork out of getting dressed! A lightweight linen shirt or jacket with matching linen pull on or trouser pants is 2023's casual suit replacement. The monochrome look feels modern and directional, allowing for this ensemble to be as much a great date night look as it is a go-to outfit for Fridays in the office. Check out our favorite ways to dress up and dress down the most versatile linen co-ords and color matching separates for an impressive statement look this year.
Leaning into Fall, Without Feeling "Sweaty"
Mid-August through October can be difficult to navigate when it comes to Fall dressing. Fall clothing is introduced in-store before the weather can catch up; And while you might want to switch your wardrobe to an autumn palette by Labor Day, shopping heavier fabrics might end up costing you in sweat. That's why we love inserting Fall color via light layers to really lean into that "autumnal vibe" within our linen ensembles. This savvy shopping method not only gives you the opportunity to save $$$ ("summer" linen is always discounted by Labor Day), but it also defines a seasonally appropriate transition without the annoyance of the heavier fabrics sold in-store. See how these all-linen ensembles interject autumnal colors to define the outfit: Goldenrod, Rust, Chocolate and Black.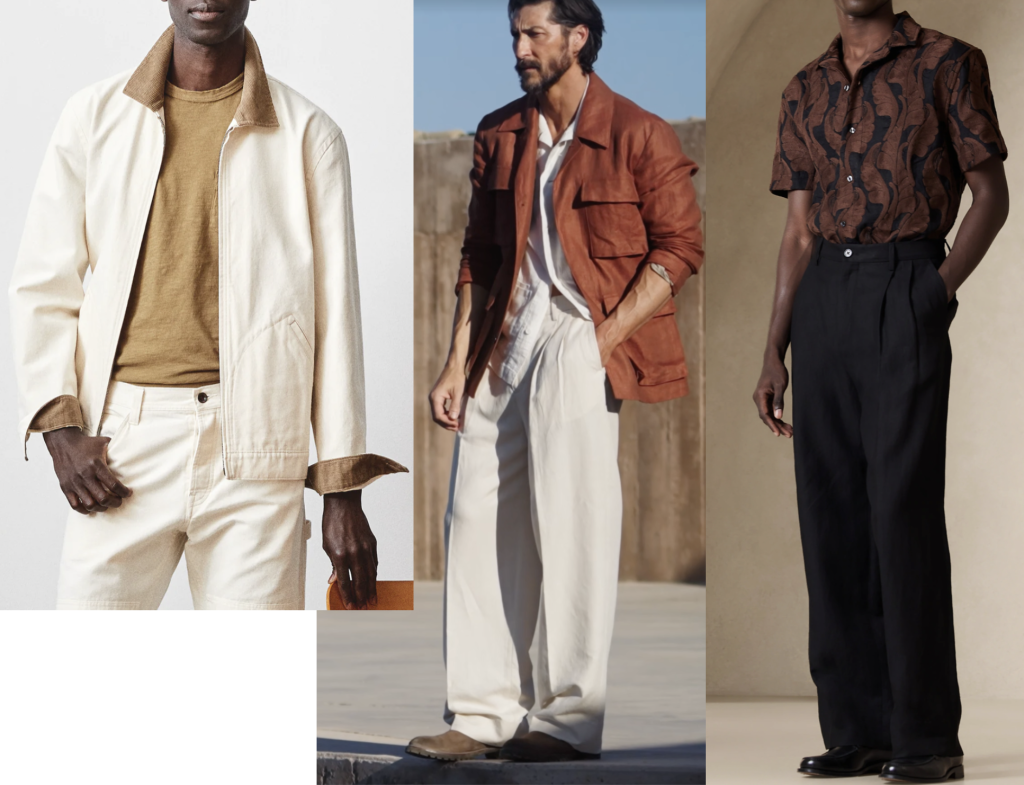 If you want to insert directional summer to fall styles into your wardrobe for work, weddings, date nights and more – Personal Stylist Los Angeles Meg Gallagher can help you build your 2023 style, offering personal shopping tailored to your lifestyle and needs! You can check out her 2023 Men's Summer Styling Services here.
The Casual Two Piece Linen Look
Sometimes, you go to places that require a little more than a tee and shorts, but you don't want a look that screams "dressy". To downplay your linen co-ords and linen separates, pair them back to sneakers, sandals, espadrilles or slides. We love this easygoing summer to fall style look for beachside bars, resorts brunch and casual weekend outings.
The Two Piece Linen Date Night Look
For nights out with friends, beachside wedding guest attire and hot weather date nights alike – You want an outfit that is smart, elevated and celebratory. We love flattering colors like Mallard Blue, Salmon or Navy to exude confidence and fun without coming across as too "out there". For weddings pair this look with loafers to keep your outfit classy head to toe. For date night, try boots for a fashion-forward edge.
The Casual Suit Workwear Replacement
With post-covid styles at the helm of an entire culture shift in officewear, casual days at the office may look a little different. Comfortable, relaxed pieces are replacing the restrictive structure of the pre-covid office wardrobe. A linen two piece with a tailored silhouette is a worthy replacement to the casual suit. Stick to deeper colors like navy and black, and pair with loafers, oxfords or leather sneakers in casual spaces.
How to Layer With the Linen Two Piece & Ways to Switch Up the Look
The best thing about the linen co-ord and two piece trend is that it can serve as a closet staple without becoming boring.
1. Get more wear out of this look by switching it up with layering! Layering with a tank top or tee shirt underneath creates added depth to your outfit. This extra layer could be in classic white, a complimentary color to your linen two-piece, or even striped to add pattern to your outfit.
2. Another way to riff off of the monochrome linen two-piece look is altering the style of pants or top to match your needs. For instance, if your outing is ultra-casual, consider a two piece linen look with shorts rather than pull-on pants. If you're dressing for work, you could also consider swapping a traditional linen shirt style for a linen blazer.
3. Mix and match. If you have several linen two piece sets, you can mix and match the pieces for linen on linen rather than a strictly monochrome fit.
Shop Men's Summer to Fall Linen Here
Catch these directional summer to fall transitional linen pieces on sale NOW for Labor Day Weekend!