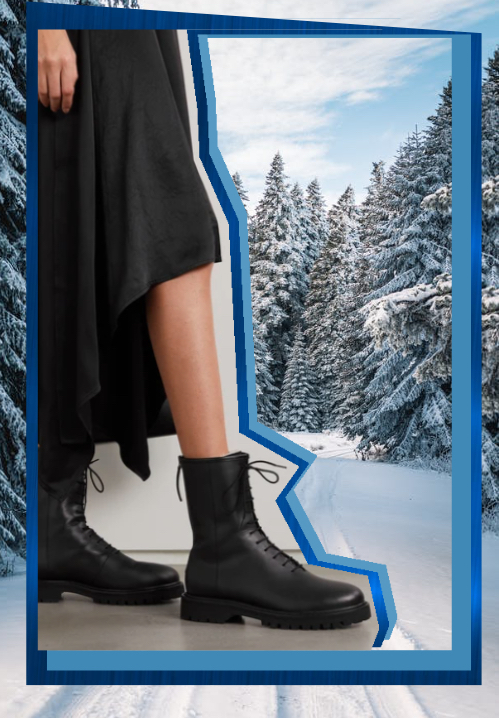 Alright – Let's be real… The shoe trends are TRICKY this year. No one knows what to wear, designers are STRUGGLING with the quasi-casual lifestyle of 2021; thus creating pieces that favor comfort over chic – and worst of all, are a MUCH easier wear for teenagers. (Nooooooo!!!!!)
We've combed through the gray zone to find the 5 trends we feel are most fun, but most flattering and realistic in our daily lives. Check out our favorite shoe trends below!
Chunky Lug Sole Boots
It's no secret that this trend is a hard one to pull off.
The key to mastering this look is creating balance. Wear a chunky or voluminous sweater or jacket on top to distribute the shapes throughout your outfit. You can also try wearing a lug sole boot in a lighter shade such as white, sand or olive to remove heaviness from the boot.
Still not sure if the lug sole is for you? Try a thinner alternative! Many lug sole boots vary in thickness and shape. A more form-fitting boot may help to create a flattering silhouette.
Sherpa & Fuzz Slipper Shoes
This is the work from home dream shoe, as well as an adorable shoe for casual errands and self-care days!
Looks great with jeans and sweaters, teddybear jackets, knit sets & knit dresses.
The Second-Skin Boot
A great option for return to office, dinner and evenings out – this style can be worn under trousers, denim or dresses.
We love how the stretch in many of these boots provide flexibility for a large variety in calf sizes, making it an easy wear for everyone!
Strappy Closed Toe & Slingback Heels
These shoes are great for a return to office look or an evening out. We love the freshness of an open heel while the closed toe is winter-friendly! A slingback opens up and lengthens the foot from the front, creating a flattering shape and balancing the closed toe.
Wrap-around straps nod to 2021's latest trend in sexiness (Think back to leather, corset tops and the strappy wrap-around bikinis we've seen in summer. Consider this a backlash to our year in at-home sweatpants – Sexy is IN!).
Loafers, the Updated Flat
Swap out your flats for this update on the everyday shoe. Take the french-girl approach by pairing your loafers with straight leg jeans!