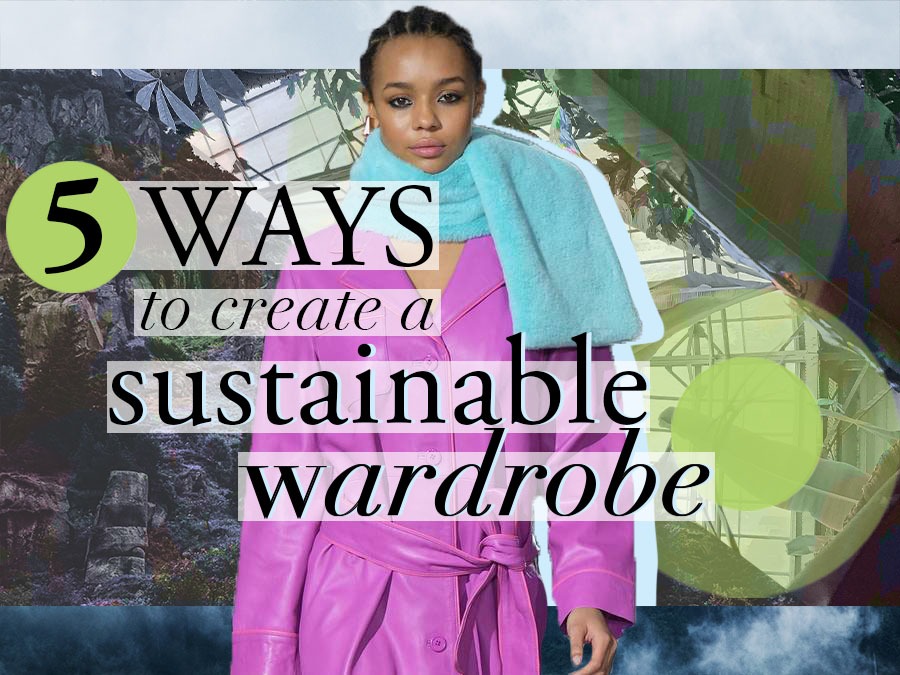 Sustainable fashion is more accessible than ever with big names like Net-a-Porte (See: NET SUSTAIN), Nordstrom (See: Nordstrom Sustainable) and H&M (See: H&M Conscious) paving the way with their promotion of recycled materials and sustainable sourcing. While we are excited about these ever growing environmentally friendly options – there are many other ways to create a more conscious closet, and we've compiled some of our favorites! Here are five tried and true ways to create a sustainable wardrobe.
1. Hosting or Attending a Clothing Swap Meet
We asked LA Clothing Swap Meet host and attendee Annie Girard (instagram: @AnnieGirardYAY) to explain swap meets to us and divulge what elements create the most successful event! Annie explained that organizing the pieces people bring by type or size before the swap begins and using predetermined rules (such as a game, or drawing numbers from a hat) keeps a swap meet light and fun while allowing people to get things they may actually want. People can bring anything from clothing items they no longer wear to accessories and unused makeup samples. For hosting an event, have hangers, clothing racks and food and drinks to share! Any clothing not taken by the end of the night can be donated.
Hosting a smaller event as a girls' night between friends can be especially successful if people share a similar sense of style, or ideal for giving away any sentimental pieces you no longer wear but feel guilty donating. For larger events, Annie says swap meets instill a warm sense of community between women.
2. Shopping Resale
Find pre-owned pieces for a chunk of the original price! Here's a list of some of our favorite resale sites and shops.
TheRealReal.com is a valuable source for authenticated luxury consignment – great for both purchasing and selling!
Rebag.com is a Manhattan-based luxury bag consignment website and store with the option to buy, sell or exchange bags – Go from one handbag to the next with no regrets! In-store locations: LA, NYC and Florida.
Vestiairecollective.com is a French company dedicated to a sustainable approach to luxury fashion, taking a unique approach to consignment with it's careful curation of desirable and expertly authenticated pieces. We love it's strong international community that spans over 50+ countries!
With new arrivals every day, Tradesy.com is a reliable and popular authenticated luxe style consignment site that creates easy opportunity for you to sell and buy fabulous pieces! Free returns makes Tradesy a great stop for first-timers in luxury consignment.
With shops in Studio City, Los Angeles, Santa Monica and San Fransisco, Wasteland is a well stocked source for current pieces – great for men and women!
3. Shopping Vintage
Like shopping resale, shopping vintage is an easy way to snag covetable already-existing piece! Whereas you may see many seemingly unique, historically rich items in any given shop – you'll want to find pieces that have withstood the test of time (See Article: How to Buy Vintage Clothes for Beginners). Risky pieces to buy vintage include belts and shoes especially – both of which have likely endured tension and wear-and-tear that leave pieces to fall apart soon after purchase. Despite any risks, there is high reward to finding a great vintage piece that no other person will be wearing out on the streets. Here are some thoughtfully curated sites and stores that specialize in selling reputable vintage we love!
Poshmark.com sells both resale and vintage! We especially love buying vintage on this site because the format includes in-depth descriptions, allows for plenty of product photos and has a comments section to allow for further questions about the product before purchasing. You can negotiate pricing and for further protection, Poshmark has an involved protection systems for refunds on misrepresented items, including pieces with undisclosed damage.
Resee.com is a resale and vintage site that has pieces from as far back as the 1920's. We love this site for it's beautiful product photos and easy site searchability.
Both online and on La Brea Avenue, this Los Angeles based vintage store is filled with unforgettable pieces fit for the stars!
4. Shop Your Closet
Now more than ever is a great time to shop your closet! There's limited newness in store time of year, so dig up that vintage piece hidden in the back of your closet, or visit pinterest for new ways to wear last season's top. See our post on reworking pieces you already have in your closet for cold weather outfit inspiration.
5. Rewear Your Cocktail and Black Tie
Find a new way to wear the pieces you've only worn for that one party or event. Pull out your LBD and re-work it with different jewelry! Add a different coat, leather jacket or blazer. Swap heels for boots!
This post is dedicated to Australia in lieu of the fires that have recently ravaged it's southeast coast, in the states of New South Wales and Victoria. We believe that being mindful of our environment in everyday choices provide positive steps toward a brighter, greener future. If you feel inclined, we invite you to take a look at two verified Australian relief organizations whom are currently accepting donations that provide assistance to those affected in the tragedy.
VICTORIAN BUSHFIRE APPEAL
"The Victorian Government has partnered with Bendigo Bank and The Salvation Army to establish the Victorian Bushfire Appeal. 100% of donated funds will go directly to communities in need. "
(description via www.vic.gov.au)