Topshop
is
finally
making its way to the West Coast and LA is first on the list. Although its opening (at The Grove!) got pushed back to March, they decided to give us a taste of what's to come by opening a LA showroom/pop-up shop in West Hollywood. Anything like their SoHo flagship or London's Oxford Circus? Nope, buuuuut still pretty great…
The floor was a limited collection of specialty must-have's for the LA gal and guy. Luckily, cool suitings included. I immediately fell in love with this
burgundy 60's style

shift dress

.
The perfect
holiday piece
that I could dress up or down. So much, in fact, that I thought it best to forgo the usual Polyvore and share my personal closet findings for this festive new closet addition.
Love the idea of wearing this
Baroque style
with
gilded gold
accessories.
Black tights
create a long leg line and keep the chills away. The booties are from Hollywoud. A fabulous shop in Nolita that no longer exists….so sad.
Added this

gold

blazer

as the finishing touch. Blazers are almost always a solid, simple choice to bring any outfit home.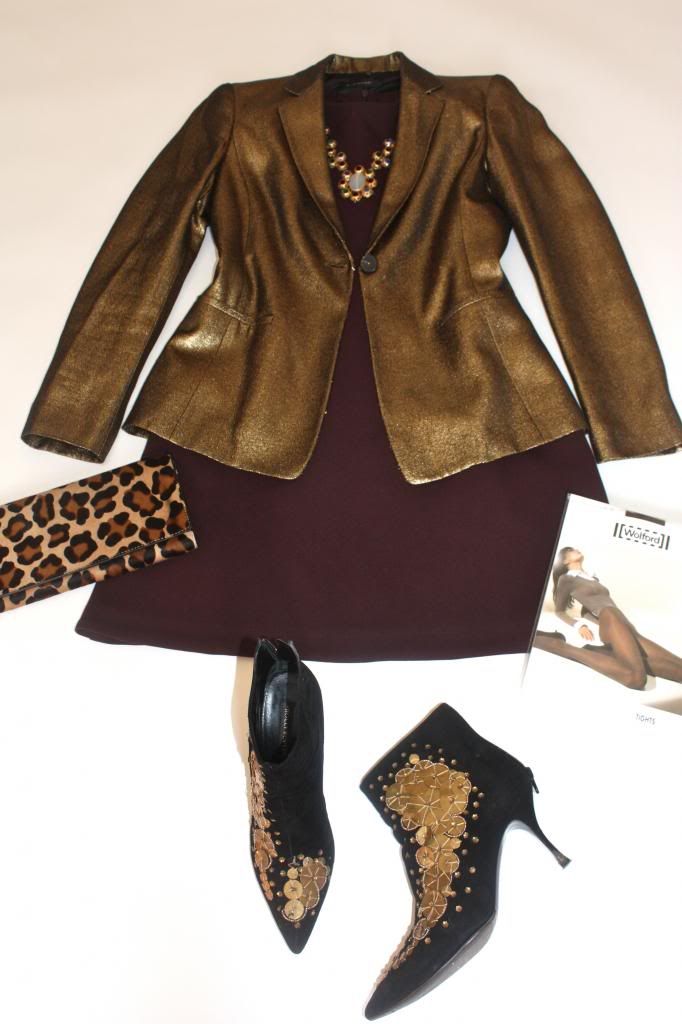 A close-up of my yummy necklace that I bought at a turkish bazaar in
Dumbo
, Brooklyn this past
NYC
trip.
For a more
casual
look, I
styled
the dress back to greys and camels. Loved it paired with ladder-stitched over-the-knee socks and booties. The
animal print
bag and contrast-colored scarf give the outfit texture and a visual
POP
. Lunch or an exhibit are definitely on the books.
This patterned scarf of mine is a fav. Although multi-colored, it has the versatility of a

neutral
and works with so many outfits. Remember: an outfit is not about pieces
matching
, but about having
styled contrasts
.
Although most might find booking an appointment to shop a little daunting,
Chelsea
, the booker, is friendly and quick to communicate. Give her a
shout
. We liked her so much we took a pic of her fab
layered jewelry
(below).
Swoon.
Take some time before the slew of holiday events hit and style some outfits from your closet, take pics and be ready when the next invite arrives! Or let me put together a few for ya on
The Mobile Lookbook©
.