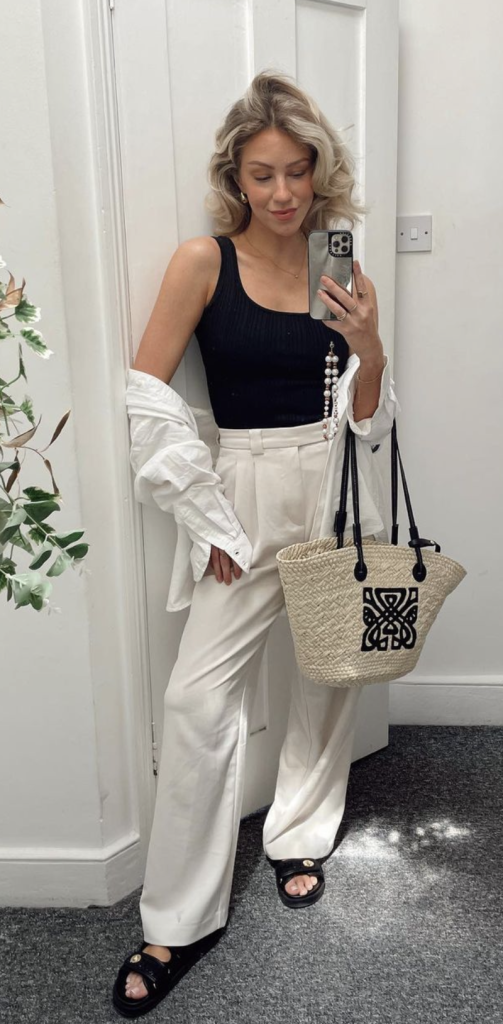 Spring Summer Outfits for Women, Inspired by The Outfits of Liv Blackwell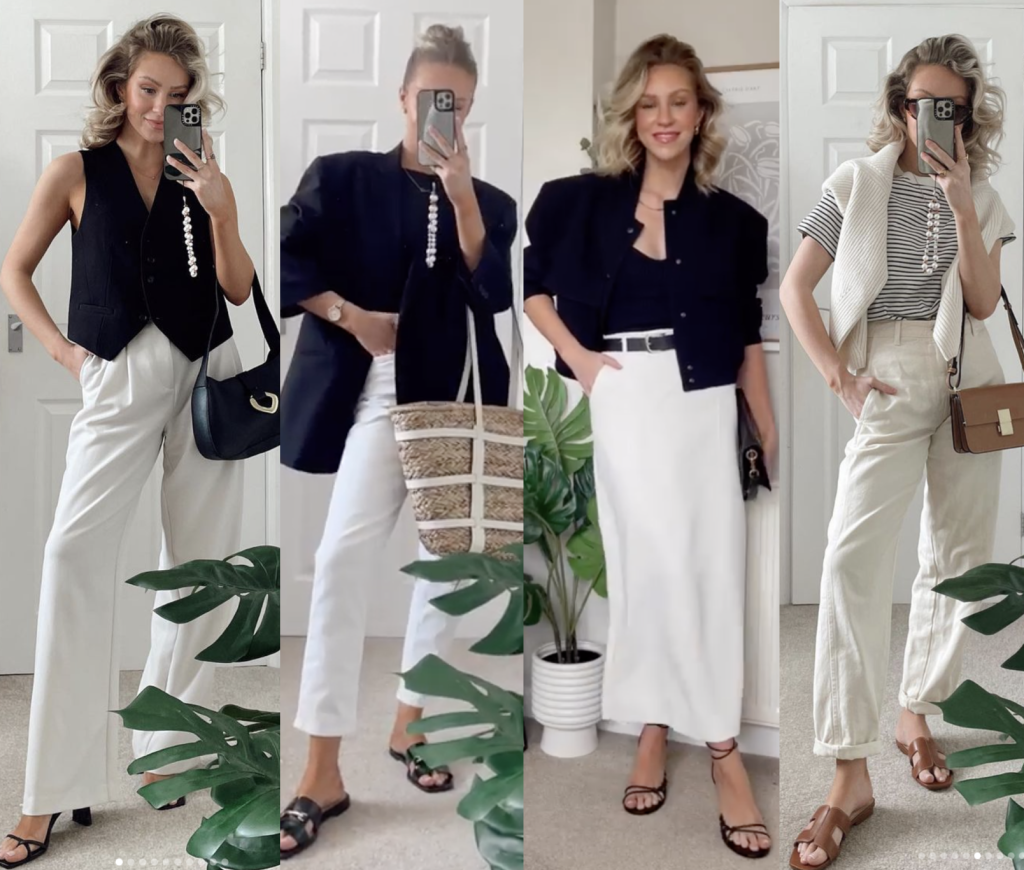 As temperatures are rising, we're especially inspired this week by Liv Blackwell's expert minimalist spring summer wardrobe. Utilizing some clever basics, Liv Blackwell shows off a myriad of outfits in whites, blacks and neutrals that prove timeless chicness in every fit! Everyone's searching for ways to create cute spring summer outfits that are lightweight, high quality, casual and chic enough to withstand high temperatures. Los Angeles Personal Stylist Meg Gallagher details the key pieces that make an ideal spring summer capsule wardrobe, as well as a shopping guide of key pieces below!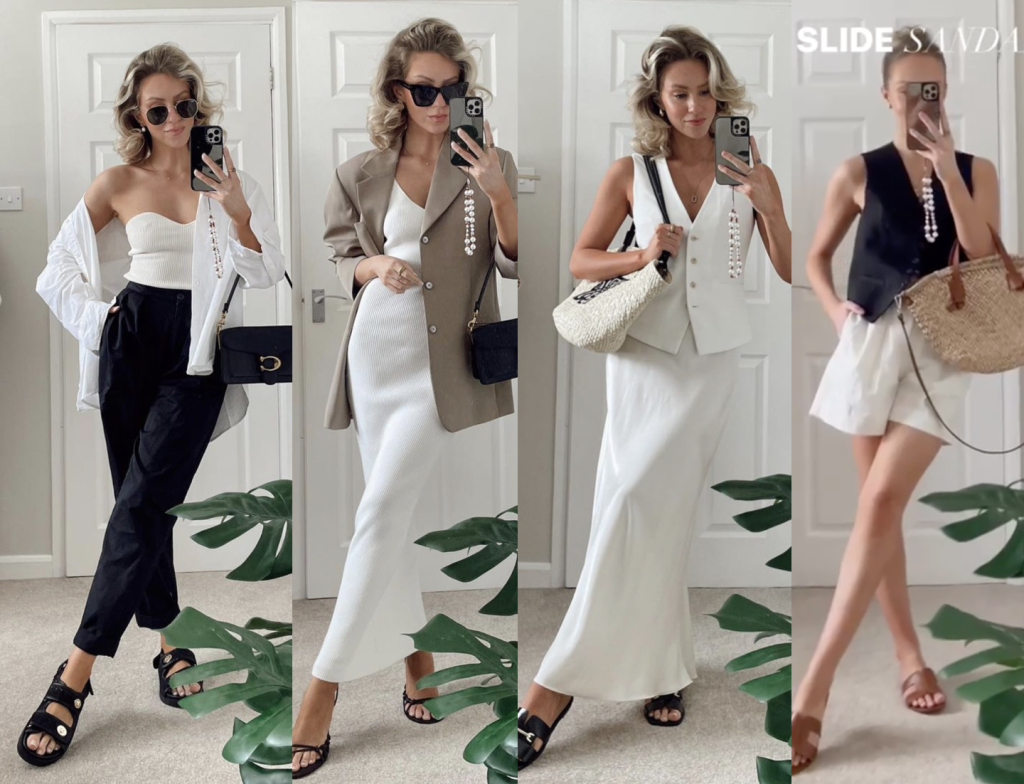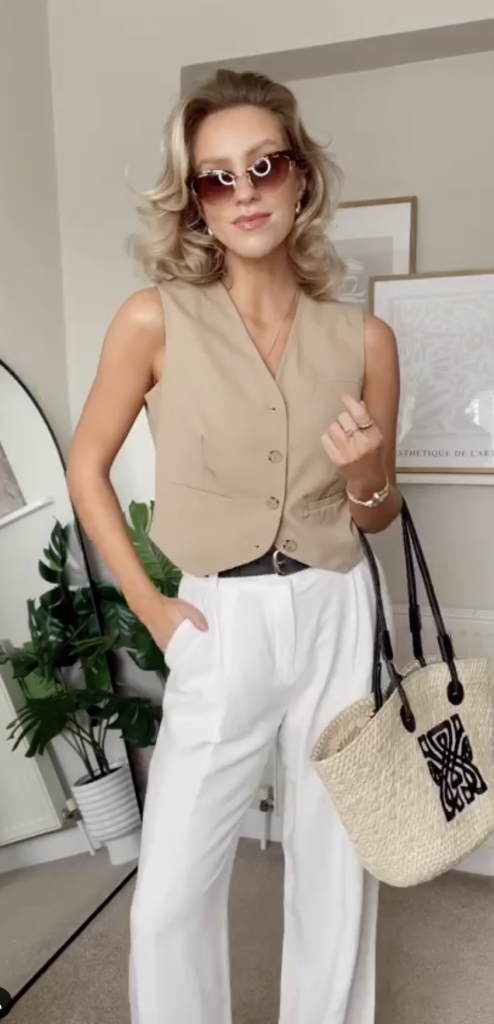 Essential Spring Summer 23 Capsule Wardrobe Checklist
-White and/or Black Oversized Blazer
-White, Black and/or Neutral Rib Tank
-Black Dress Fitted or Flowy
-White Summer Dress
-Striped and/or White Button Down Shirt
-Neutral Colored Vest Top
-Striped Tee
-Black, White or Neutral Trousers
-Neutral or Black Trouser Shorts
-Cream Straight Denim
-Black or Neutral Mini Skirt
-Cream Long Denim Skirt
-Thin Belt to Pair with Trousers
-Straw or Natural Fiber Tote
-Black Leather Bag
-Tie-Up Black Sandal or Micro Heel Sandal
-White Sneaker
-Black, White or Neutral Sandal
-Thin Black Heel, Platform or Espadrille
Want a minimalist capsule wardrobe for Summer 2023? Meg Gallagher can curate your very own custom spring & summer outfits for endless easy-to-wear outfit combinations to carry you through the hotter season. Shop our Spring Summer Outfits Capsule Wardrobe Edit, then check out our spring & summer fashion for women Wardrobe Styling Services by Meg Gallagher, Personal Stylist Los Angeles here.
Essential Tops for a 2023 Summer Outfits Capsule Wardrobe
Dressing for Spring and Summer starts with a lightweight top! This year, we're seeing a resurgence in button up vests as tops, along with striped tees and neutral tank tops.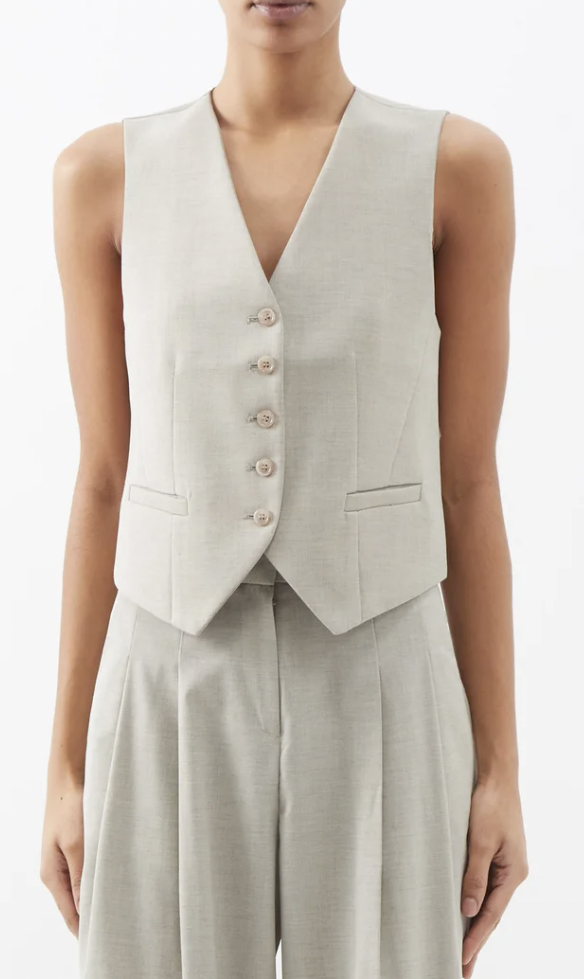 Chic Summer Dresses for Spring & Summer
Next on our dressing for spring & summer essentials list is a basic black and/or white dress to wear as a layer under blazers, button ups or even on their own! Want more dress ideas? Check out our full Little White Dress Edit here.
Lightweight Layering Tops and Blazers
Adding dimension to your spring summer outfits is easy when you have lightweight outer layers! The key here is to add dimension to your outfit while keeping the pieces light and airy, so stick to natural fibers like linen and linen blended fabrics.
Lightweight Summer Trousers, Shorts & Skirts
Some people don't realize that is IS possible to have trousers in your "what to wear in spring and summer" list. No reason to fear getting too hot down there – these pieces are lightweight, airy, and don't wrinkle up when you sit either. Check out our favorite spring and summer trousers, shorts and skirts.
Essential Summer Shoes, Accessories & Bags
We're seeing a lot of great micro-trends in shoes, accessories and bags this year! Here's a quick overview:

In Shoes: Teeny Tiny Micro Heels, Sandal-Flats, Delicate Thin Strap Tie-Up Shoes, Espadrille Platforms & Flatforms, Rope Textures, "Brandless" Heels that Speak to Quiet Luxury

In Belts: Thin is in! Thin belts reign supreme over the thick waist belts popularized in 2018. Wear them with your favorite trousers as a chic, understated embellishment.

In Accessories: While there's still a wide range of pieces still in style, we're seeing a fresh take on layering jewelry with smaller, more delicate statement pieces rather than larger chunky pieces of years past.

In Sunglasses: Brandless Designer Dupes are all the rage! Check out our more in-depth sunglasses article, Designer Sunglasses VS Their Dupes here.

In Bags: Straw totes with black or brown leather accents are a staple in minimalist wardrobes!