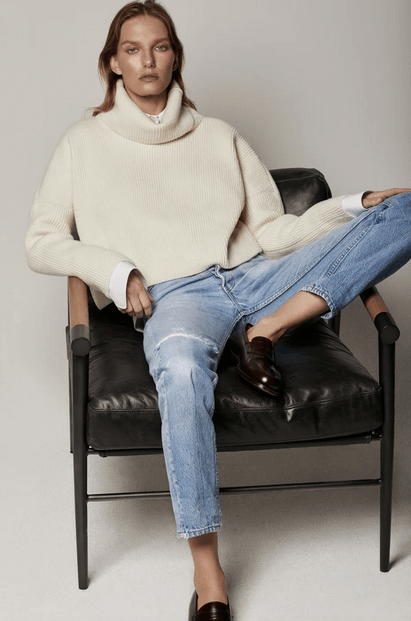 There's no doubt about it… In 2021, we STILL want comfort clothes!
Spandex, Nylon, Polyester – all the synthetic fibers that make clothing stretch are in full force on the runway and in all our favorite #wfh pieces. Synthetics take an integral role in the production of at-home favorites like leggings and stretch jeans! But where exactly do they come from?
Vogue said it best. "Fracked Fashion" is the term Emily Farra coined in her haunting article, which details the movement of synthetic fiber from it's conception: "For the uninitiated, they start with fracking, followed by a series of chemical reactions to transform crude oil into a fiber. The fibers don't biodegrade, which means a polyester legging may sit in a landfill for hundreds of years before eventually breaking into smaller and smaller microplastics. Those later contaminate the soil, harm wildlife, and enter our food and water. Washing polyester and other plastic-based synthetics in the laundry releases microplastics too (including recycled polyester)."
And while these sobering truths about synthetic fibers can (and should) make us think twice before we purchase, this doesn't mean such pieces should always be avoided. Advantages are worth taking note of, too: Compared to natural fibers, many synthetic fibers are more resistant to water and stains. Synthetic fibers are all-around more durable than natural ones, and will readily pick up vibrant dyes. And when it comes to cloth-damaging insects like carpet beetles and moths, synthetics aren't a tempting food source to target.
There's a certain je ne sais quoi to the person who understands their wardrobe, where it comes from and how to build upon it accordingly. Now more than ever, we have the capability to research and reflect on what goes into the production of the clothes we buy; allowing us to personally access what is best for our style and our future. In celebration of striving for a more conscious wardrobe, we've gathered some of our favorite brands and resources that display their own unique methods on what it means to have a responsible approach to fashion.

AnotherTomorrow – Avoids using Polyester, Viscose and other like-materials in a thoughtful pursuit of human, animal, and environmental welfare.
MATE the Label – A Commitment to using Organic Cotton, 100% recycled materials for shipping mailers and boxes, recycling used products into new product, and a reduced carbon footprint by keeping all production in Los Angeles.
AMOUR VERT – For every tee bought, they plant a tree. Their pieces are made in limited quantities to ensure the highest production standards and to eliminate any excess waste. Reduced Carbon footprint with 97% of production in California. They partner directly with mills to develop fabrics that are sustainable, soft, and long-lasting. Compostable protective bags to store and ship garments to your door!
Back Beat Co. – All fabrics are recycled or sustainably farmed. All shipping materials are recycled or compostable!
Groceries Apparel – Shop by ingredient! Vertically-integrated, local, and traceable production maximizes quality, efficiency, and employee pay, and minimizes redundancy, waste and their carbon footprint.
Pact – Organic and fair trade at extremely affordable prices.
Ceres – They local fabric mills and factories & avoid synthetic fibers. Packaging is minimal using all recycled materials.
Stella McCartney – Recycled synthetic fibers and conscious sourcing of materials.
Reformation – Created a 5-tier standard for their materials and how they are used. Utilizes vintage recycled materials. Involved with the non-profit group Canopy to limit their environmental impact in utilizing viscose.
Marine Serre – All about up-cycling and creative re-use of vintage materials.
Remake – A fashion resource team who checks up on brand claims regarding sustainability, making it easy for the community to call out greenwashing and support better brands.