In light of the New Year, we thought a new look was in order for MtM. And, we couldn't have done it without your help. Thanks to all your clicks and likes (♥!), here are the Top Posts of 2012 in our (soon-to-be-sorted) 5 categories…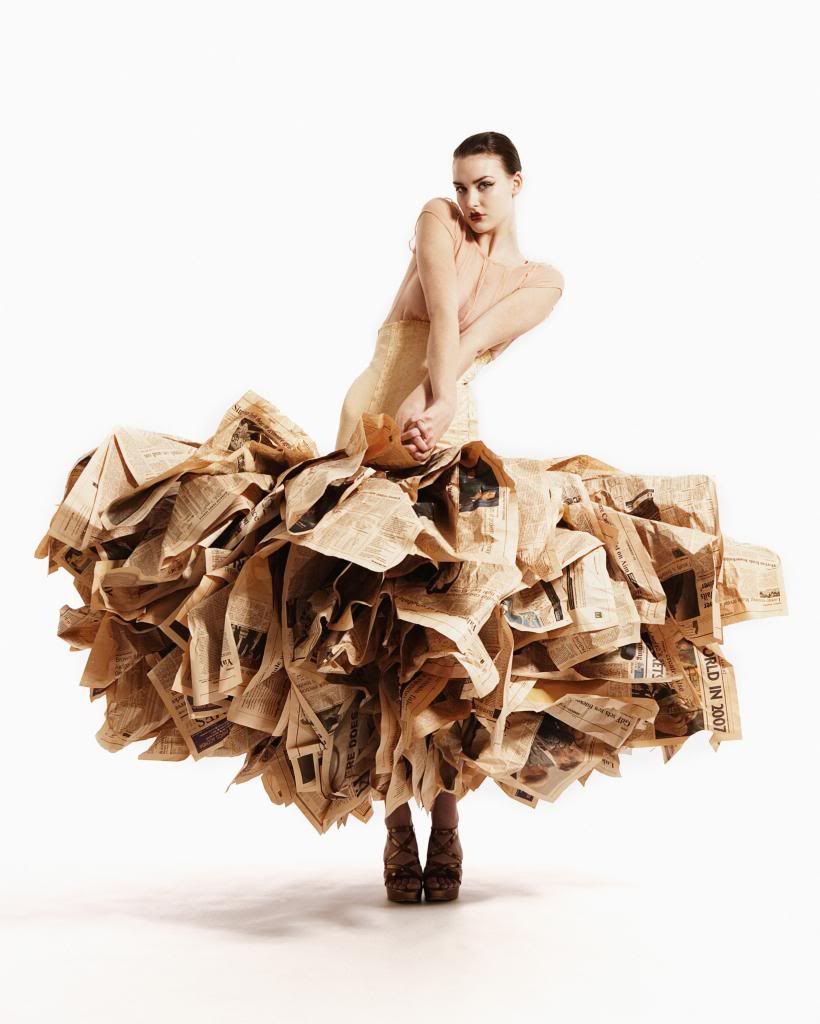 If only an eco-couture gown made entirely of newspaper were the answer to all our sustainable fashion needs.
Referrals are the core of my business. People seem to trust the idea more if someone they know has already taken the plunge. Copy that.

In walks the challenge referral of the year. Granted, I've done my fair share of vintage, thrifting, even consignment shopping and come out ahead, but never has a client asked me to help them create the ultimate in eco-conscious living:

a completely sustainable wardrobe

…
Last week, I was contacted by the Paul & Joe rep in regard to their upcoming super fab event on Robertson Blvd. Showcased was the new Fall Collection (hurray!) and an array of goodies from their couldn't-be-more-chic cosmetics line. Served with girly drinks and sweets, we were joined by C Magazine and the kind of staff that made me want to stay all night…
The Frieze Art Fair kicks off today in N.Y.C. For the first time, London's hottest art event will infiltrate the streets of Manhattan. Get your style here, from the waterfront to downtown.

One Masterpiece to Rock the Weekend.
Ride the ferry and walk the sculpture garden in style…

Buying a bra is right up there with finding the perfect pair of denim and swimwear shopping. Actually, it may be the most painful of all three. Who wants to drop $100+ on the only part of your outfit no one will ever see? Something to consider, though: the undergarments you wear are the first thing others notice. Think about it. Layered underneath, these are the very pieces creating your desired silhouette…
#4: Inside the Styling Studio




On a sunny Monday in July, I loaded up my car and headed to Santa Monica's Milk Studios where I would spend the day working with Shirley MacLaine. Excited, yes. Nervous, definitely! It turns out I was not alone since everyone on the shoot was anxious/excited to meet the infamous Shirley. She arrived in a flurry with her dog and publicist and once settled we all got down to the business of prepping for Elle Magazine's Women in Hollywood shoot…
So you've finally made the commitment. More exercise is a must. And, to reward yourself for making such a positive life change? A new outfit, of course. Lucky for you, fitness wear has taken a turn for the stylish.
To gain insight on this active new trend, we caught up with Racquel Tristan, LA Retail Specialist at CorePower Yoga, one of today's fastest growing (and rather unique) yoga studios. Offering everything from a Wellness Cleanse to their cult-followed Heated Power Yoga (first week is FREE!) and all the fashionably-fit apparel to make exercise fun, they certainly make it easy to live an extraordinary life…
Bonus Category!
Why You Need: The Mobile Lookbook©




Celebrity

Style-Status

right at your fingertips




Celebrities receive red-carpet treatment on the daily, but what about you with an on-hand photo gallery of your own personally-styled outfits?

We ♥ this idea too.

The Mobile Lookbook

©

integrates your phone-in-hand-at-all-times addiction and need to dress the part by creating a wardrobe itinerary you never have to leave home without…
Did we miss your favorite post? Want to hear more about something in particular? Let us know. Annnnd here's to a FAB 2013!
M

x
Follow my blog with Bloglovin